Bob Iger Tweaks Disney's Strategy on Streaming
8 min read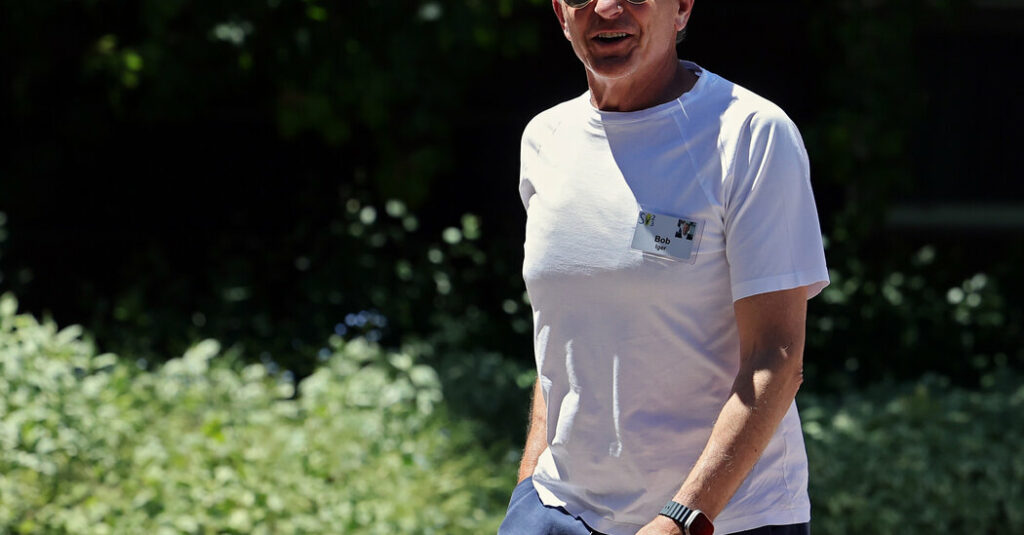 Disney's next move
Even if Bob Iger, Disney's C.E.O., didn't have much to reveal about big-ticket M.&A. on Wednesday — other than continuing to suggest he may sell its legacy TV businesses — he did make news with the company's quarterly earnings report.
Streaming is Disney's future, Mr. Iger said, but the era of pursuing breakneck growth in the business is over. The strategy now is to extract more money from subscribers via hefty price increases for Disney+, and hoping that those efforts don't drive them away.
Disney can't afford to keep losing billions on streaming. The division lost $512 million in the most recent quarter, bringing its total losses since 2019 to over $11 billion. While the latest figure was less than analysts had expected, that performance is still untenable in the long term, leading Mr. Iger to follow Netflix's example and raise prices for Disney+ and Hulu.
The increases were largely in the ad-free tiers: Starting in October, the monthly cost of Disney+ will go up to $14, double the service's initial $7 price. (That's in part because the ad-supported tiers actually make more money per user; Mr. Iger said the price increases were meant to nudge more subscribers to that tier, where prices will stay flat.) "We grew this business really fast, really before we even understood what our pricing strategy should be or could be," he told analysts.
(Another area where Disney is following Netflix is a crackdown on password sharing, presumably after the rival service said it saw no real downside to the practice.)
The results also underscored the need for change at ESPN, which is under pressure from cable cord-cutting and the rising cost of sports broadcast rights. Mr. Iger touted the sports network's new online-betting venture with Penn Gaming as a way to increase subscriber engagement.
But when asked about how efforts were going to find a "strategic partner" for the sports network, Mr. Iger said only that the process was continuing — and that Disney wasn't looking for cash so much as "either content or distribution and marketing support or both" to help ESPN become a streaming business.
Mr. Iger had less to say about other potential deals, including a sale of Disney's legacy TV businesses like ABC, which reported another drop in operating income — an idea he flagged in a CNBC interview last month. "As I've stated before, we are thinking expansively and considering a variety of strategic options," he told analysts, though he said Disney intended to hold onto its TV production studios to keep pumping out content for streaming.
And on speculation that Disney as a whole could be sold to, say, Apple, Mr. Iger said only that those who would imagine such things "would have to immediately consider the global regulatory environment."
Investors appeared pleased, with Disney shares rising nearly 1.7 percent in after-hours trading after the earnings call. But they're likely anxious to see what Mr. Iger's endgame looks like.
HERE'S WHAT'S HAPPENING
Wildfires burn across Maui, killing at least 36. Fast-moving blazes prompted thousands to evacuate the Hawaiian island, forced some residents to flee by swimming into the Pacific Ocean and reduced a historic town to ashes. The state has become more vulnerable to disastrous wildfires because climate change has reduced rainfall.
Saudi Arabia and the United States are reportedly closing in on an agreement on recognizing Israel. The two sides have set the broad contours for a deal in which the Saudis would open diplomatic ties with Israel, in exchange for aid to Palestinians, The Wall Street Journal reports. Months of further negotiations are expected, including over whether the United States will help the kingdom develop a civilian nuclear program.
Coronavirus hospitalizations are increasing in the United States. Hospital admissions in the last week of July were up 43 percent from the week ended June 24, potentially driven by the heat and waning protection from Covid vaccines. They remain well below historical peaks and experts say that occasional rises in infections are inevitable, but newly updated vaccines coming this fall should help.
Donald Trump's Twitter account emerges as a focus in the special counsel's investigation. Jack Smith, the special counsel who has twice charged the former president with federal crimes, obtained a search warrant for Trump's now-dormant account early this year, without notifying him. A court filing also revealed that Twitter, now known as X, was fined $350,000 for failing to meet a Justice Department deadline for complying with the warrant.
What to watch for in today's inflation report
Inflation data for July will be published today at 8:30 a.m. Eastern, and expectations are that the Consumer Price Index rose slightly compared to June. But Wall Street and economists will be focused on the core inflation number, which strips out volatile food and fuel prices, for clues on whether the Fed will hold rates steady at its next meeting in September.
The core inflation reading could be encouraging. The C.P.I. is forecast to have climbed 3.3 percent in July year-on-year, up slightly from the 3 percent increase in June and still higher than the Fed's 2 percent target.
But economists expect core inflation to have risen 0.2 percent, the same reading as the previous month. Those would be the lowest back-to-back inflation readings since early 2021, giving some hope that price rises are moderating and getting closer to prepandemic levels after hitting a peak of 9.1 percent last summer.
A tough sell for the Biden administration? The president has tried to reset the messaging around his management of the economy, hoping to convince voters things are improving despite inflationary pressure and high interest rates. The last few inflation reports have showed across-the-board cooling, but there are some worrying signals, including gas prices, which hit an eight-month high at the end of July.
Today's data will not reflect those increases, but the price rises have persisted and are likely to be reflected in the inflation reading next month.
Economists are watching out for rental costs, airfares and other services. Laura Rosner-Warburton, senior economist at MacroPolicy Perspectives, expects inflation to pick up in August but then fade. Rental cost increases have been slowing, services like airfares cooled in the previous report and used car prices have been coming down, a trend that probably continued into July.
"Core inflation pressures are cooling down," Rosner-Warburton told The Times. "We got a glimmer of that in the June print, and this will be another piece of evidence in that direction."
"I acknowledge my role in the ineffective rollout. Over my two-and-a-half years as deputy commissioner, my six-and-a-half years as commissioner of the PGA Tour, I feel like I have gained the trust of the players. I understand this is a setback."
— Jay Monahan, the PGA Tour's commissioner. In his first public remarks since returning from medical leave, Monahan said that he had made mistakes in announcing the tour's surprise deal with the Saudi backers of the rival competition LIV Golf, including not notifying players beforehand.
Weighing the hit of new limits on China investment
President Biden on Wednesday issued an executive order that banned some investments in key Chinese sectors, including artificial intelligence, quantum computing and advanced chipmaking. It's his latest effort to limit China's efforts to advance sensitive technologies that could be used by its military.
Chinese officials expressed displeasure at the move, but analysts said the restrictions were unsurprising and their wider impact may be relatively narrow.
American officials said the measures were focused on U.S. national security. The restrictions will largely apply to private equity and venture capital firms, as well as some investors involved in joint ventures with Chinese entities. The Treasury Department said the executive order was "narrowly targeted" and complemented existing export controls.
That could anger China hawks in Washington, who have pushed for more aggressive actions. But the Biden administration has sought to lower tensions with China, with both Treasury Secretary Janet Yellen and Secretary of State Antony Blinken visiting Beijing in recent months. (Commerce Secretary Gina Raimondo is expected to go soon as well.)
Analysts are awaiting China's response. Because Chinese investment in the United States is already low, it isn't clear that a mere reciprocal move by Beijing would have much impact, according to Evan Medeiros, a former director of China policy in the Obama administration and now a Georgetown professor. "Do they go for something that stings — and what would that be?" he told DealBook.
China has already restricted exports of two materials critical to producing electric vehicles and chips, and it dominates the supply chain for clean energy, an economic sector that the Biden administration has said is crucial. "Beijing's most likely move is to expand the elements or quantity of export controls," Yu Jie, a China expert at Chatham House, a London-based think tank, told DealBook.
A bigger brake for investment in China may be the country's own economy. New data published this week showed that China had dipped into deflation and that trade had plummeted.
"Financial investors and multinational companies are willing to endure political risks so long as they believe China's economy offers growth opportunities that aren't available anywhere," Gabriel Wildau, a managing director at the consulting firm Teneo who focuses on political risk in China, told DealBook. "When growth slows, that cost-benefit analysis changes, and the risks and headaches of operating in China start looking more formidable."
THE SPEED READ
Deals
Tapestry, the owner of the luxury brand Coach, agreed to buy Capri Holdings, the parent company of Michael Kors and Versace. (Tapestry)
WeWork, which has raised doubts about its future, added directors with bankruptcy experience to its board. (WSJ)
Brookfield Asset Management, the giant investment firm, said it expects to raise $150 billion in new funds this year, defying a slowdown in its industry. (Bloomberg)
Policy
Senator Dianne Feinstein, the 90-year-old Democrat of California, was briefly hospitalized after falling in her home. (NYT)
San Francisco officials are pushing back against efforts to expand driverless car services by Cruise and Waymo in the city. (NYT)
"A Simple Law Is Doing the Impossible. It's Making the Online Porn Industry Retreat." (Politico)
Best of the rest
The market value of the drugmaker Novo Nordisk is now bigger than the economy of its home country, Denmark, thanks to sales of the weight-loss drug Wegovy. (Bloomberg)
The C.E.O. of Zoom sought to allay user fears that new terms of service would allow the videoconferencing company to use customers' meetings to train its A.I. systems. (Axios)
"The Race to Save the World's DNA" (New Yorker)
We'd like your feedback! Please email thoughts and suggestions to [email protected].
Andrew Ross Sorkin is a columnist and the founder and editor at large of DealBook. He is a co-anchor of CNBC's "Squawk Box" and the author of "Too Big to Fail." He is also a co-creator of the Showtime drama series "Billions." More about Andrew Ross Sorkin
Ravi Mattu is the managing editor of DealBook, based in London. He joined The New York Times in 2022 from the Financial Times, where he held a number of senior roles in Hong Kong and London. More about Ravi Mattu
Sarah Kessler is a senior staff editor for DealBook and the author of "Gigged," a book about workers in the gig economy. More about Sarah Kessler
Michael de la Merced joined The Times as a reporter in 2006, covering Wall Street and finance. Among his main coverage areas are mergers and acquisitions, bankruptcies and the private equity industry. More about Michael J. de la Merced
Ephrat Livni reports from Washington on the intersection of business and policy for DealBook. Previously, she was a senior reporter at Quartz, covering law and politics, and has practiced law in the public and private sectors.   More about Ephrat Livni
Source: Read Full Article