Opinion | 'I Don't Think Harvard Was Good for My Soul'
2 min read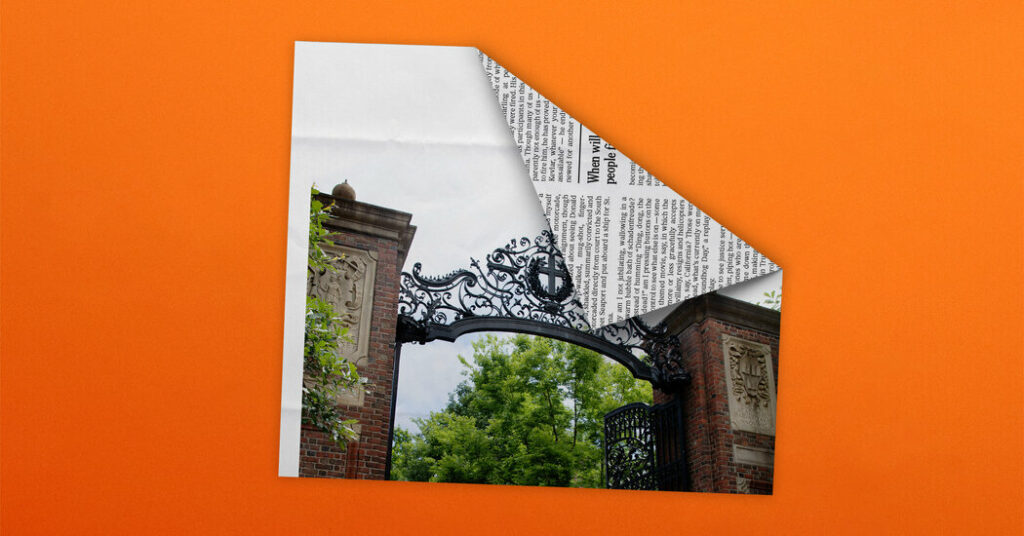 Hosted by Michelle Cottle, Ross Douthat, Carlos Lozada and Lydia Polgreen
Listen to and follow 'Matter of Opinion'
Apple Podcasts | Spotify | Amazon Music
Elite colleges are facing a reckoning over their admissions practices. But is there a case for upholding policies that give preferential treatment to some students?
On this episode of "Matter of Opinion," the hosts examine whether it really matters if you go to Harvard and what the upside could be of favoring family connections.
(A full transcript of the episode will be available midday on the Times website.)
Related content:
"Diversifying Society's Leaders? The Determinants and Consequences of Admission to Highly Selective Colleges," by Raj Chetty, David J. Deming and John N. Friedman in Opportunity Insights
"Fast Car," written and originally performed by Tracy Chapman
"Privilege: Harvard and the Education of the Ruling Class," by Ross Douthat
Thoughts? Email us at [email protected].
Follow our hosts on Twitter: Michelle Cottle (@mcottle), Ross Douthat (@DouthatNYT), Carlos Lozada (@CarlosNYT) and Lydia Polgreen (@lpolgreen).
"Matter of Opinion" is produced by Sophia Alvarez Boyd, Phoebe Lett and Derek Arthur. It is edited by Stephanie Joyce. Mixing by Carol Sabouraud. Original music by Isaac Jones, Efim Shapiro, Carole Sabouraud, Sonia Herrero and Pat McCusker. Our fact-checking team is Kate Sinclair, Mary Marge Locker and Michelle Harris. Audience strategy by Shannon Busta and Kristina Samulewski. Our executive producer is Annie-Rose Strasser.
Michelle Cottle is a member of the Times editorial board, focusing on U.S. politics. She has covered Washington and politics since the Clinton administration. @mcottle
Ross Douthat has been an Opinion columnist for The Times since 2009. He is the author, most recently, of "The Deep Places: A Memoir of Illness and Discovery." @DouthatNYT • Facebook
Carlos Lozada became a New York Times Opinion columnist in September 2022, after 17 years as an editor and book critic at The Washington Post. He is the author of "What Were We Thinking: A Brief Intellectual History of the Trump Era" and the winner of the 2019 Pulitzer Prize for criticism. @CarlosNYT
Lydia Polgreen has been a New York Times Opinion columnist since 2022. She spent a decade as a correspondent for The Times in Africa and Asia, winning Polk and Livingston Awards for her coverage of ethnic cleansing in Darfur and resource conflicts in West Africa. She also served as editor in chief of HuffPost. @lpolgreen
Source: Read Full Article