Warren and Graham Team Up to Take on Big Tech
9 min read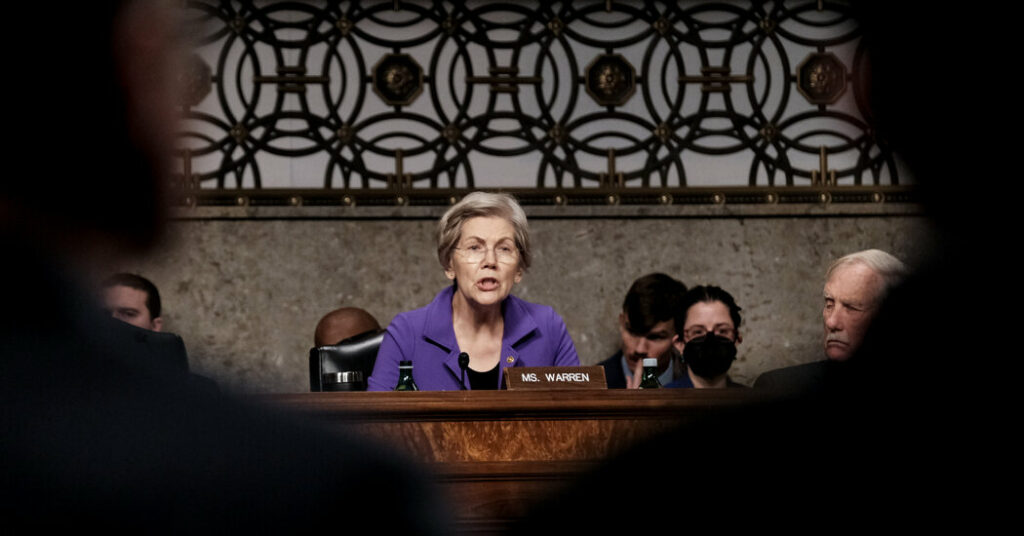 A bipartisan push for a new digital cop
For years, policymakers have worried about the growing power of digital giants like Alphabet, Amazon, Apple, Meta and Microsoft, as they came to dominate more and more of everyday life. Now, two prominent senators are pushing to create a new federal agency to rein in the power of Big Tech.
Elizabeth Warren, Democrat of Massachusetts, and Lindsey Graham, Republican of South Carolina, plan to introduce the Digital Consumer Protection Commission Act, which they say would restrain tech titans while letting them continue to innovate. But these companies have fought hard against increased oversight, and it's unclear how a new agency will fit into a Washington already full of regulators.
The bill is in the vein of legislation that established agencies to oversee fast-growing industries, much like how Congress created the Interstate Commerce Commission, the Federal Communications Commission and the Nuclear Regulatory Commission. This time, the focus is on online platforms that together command nearly $10 trillion in market cap and whose products touch on free speech, privacy, jobs and more.
"For too long, giant tech companies have exploited consumers' data, invaded Americans' privacy, threatened our national security and stomped out competition in our economy," Ms. Warren told DealBook's Ephrat Livni.
In teaming up with Mr. Graham, who has expressed support for creating an A.I. czar, Ms. Warren said the bill made "clear that reining in Big Tech platforms is a top priority on both sides of the aisle."
Some issues the new commission would focus on are:
Dominant market positions, which the senators say allow companies to unfairly promote their own products and diminish competition;
Data privacy, an area not currently covered by a comprehensive federal law and which touches on targeted advertising and more;
Social harms like sexual abuse and exploitation of children, cyberbullying and promotion of suicidal ideation and eating disorders;
And fast-growing innovations like artificial intelligence, which could lead to discrimination, job losses and a host of other unforeseen consequences.
Graham told DealBook that the act was "the first step in a long journey to protect American consumers from the massive power these companies currently wield."
It's meant to coordinate the tangle of efforts to regulate tech, including the F.T.C. and the Justice Department's antitrust arm on competition, state attorneys general and more. An aide to Warren said the new agency would expand the F.T.C.'s and the Justice Department's authority, for example, and take a comprehensive view on oversight. (The F.T.C. and the Justice Department declined to comment.)
But the proposal faces high hurdles. Democrats and Republicans agree on little these days, though reining in tech is a rare point of consensus. Skeptics also note that tech companies have close ties to lawmakers and have spent hundreds of millions of dollars on lobbying that helped kill previous efforts to police their industry.
In other regulatory news: The E.U. has opened an antitrust inquiry into Microsoft's bundling of its Teams communications product with Office 365.
HERE'S WHAT'S HAPPENING
Mastercard moves to block cannabis purchases using its debit cards. The payments giant told financial institutions to bar such transactions, citing the illegality of marijuana on a federal level. It's a further blow to the cannabis industry.
Crypto marks a milestone in Congress. A bill to develop a regulatory framework for digital assets moved out of a congressional committee — in this case, the House Financial Services Committee. The legislation, which would specify when a cryptocurrency was a security or commodity and clarify regulators' jurisdiction, will now be considered by the House Agriculture Committee.
The S.E.C. proposes new rules for online brokers' use of consumer data. The regulator will push for companies like Robinhood to address conflicts of interest in using predictive data analytics, to avoid putting their interests ahead of consumers. The proposal follows up on concerns about the "gamification" of markets that the agency had raised after the meme-stock frenzy.
Meta's year of growth
Speaking of tech giants, shares in Meta were up more than 8 percent in premarket trading Thursday after the company predicted that a recovery in its core advertising business would lead to its fastest overall revenue growth since a pandemic-era tech boom.
Meta's better-than-expected earnings mirrored those of Alphabet, which this week also reported a rebound in ad revenue, especially at YouTube. Investors have piled into both companies since the start of the year, pushing their combined market value above $2 trillion.
At Meta, the parent company of Facebook and Instagram, sales growth was powered by better ad targeting, thanks to A.I. tools, and increased advertising in the Reels video format on those platforms.
But smaller digital rivals are still struggling. Snap, the parent company of Snapchat, reported a second straight drop in revenue this week, sending its shares tumbling. And X, the social network formerly known as Twitter, has reportedly resorted to steep discounts to woo back advertisers.
Meta's fortunes are turning around. After ending last year with three straight decline quarters and having laid off thousands of workers, the company is growing again. It now claims over 3.8 billion monthly users across its apps, which also include Messenger, WhatsApp and the newly launched Threads.
Those gains appeared to offset investor concerns about spending on the metaverse. Meta's Reality Labs division, which is focused on building tools for immersive online worlds that Mark Zuckerberg has called the future of his company, lost another $3.7 billion last quarter.
But the Meta chief isn't backing down, telling analysts on Wednesday: "I can't guarantee you that I'm going to be right about this bet. I do think that this is the direction that the world is going in."
The Fed grows more optimistic
The Fed isn't quite predicting a "soft landing" for the economy, but the central bank is feeling more upbeat after raising interest rates on Wednesday to their highest level in 22 years.
Fed economists are no longer forecasting a recession, a rosier outlook than many on Wall Street hold. Fed officials now see "moderate" growth ahead, an upgrade from their characterization of "modest" last month. Speaking of which, at 8:30 a.m. Eastern, the Commerce Department will release gross domestic product data that's expected to show the economy having grown by 2 percent.
It's too soon to say if the Fed is done raising rates. Jay Powell, the Fed chair, acknowledged that "we've come a long way" in bringing down headline inflation from last summer's peak of about 9 percent. But he added that it was still well above the central bank's target.
Coming up: Two key Consumer Price Index reports and two jobs reports are set to be released between now and the Fed's next rate-setting meeting in September. The central bank and investors will scrutinize those reports for any signs of inflation perking up.
Mr. Powell has laid out the importance of the upcoming data releases for Fed policy: "It is certainly possible that we would raise funds again at the September meeting if the data warranted," he said. "And I would also say it's possible that we would choose to hold steady at that meeting."
The markets think the Fed will hold fire. The futures market on Thursday morning is showing just a 20 percent chance of a September rate increase, and it's pricing in rate cuts for the first half of next year.
"I learned a ton from watching Elon up close — the good, the bad and the ugly. His boldness, passion and storytelling is inspiring, but his lack of process and empathy is painful."
— Esther Crawford, Twitter's former head of product and once a top lieutenant to Elon Musk, in a lengthy post about what it was like to work for the billionaire.
PGA Tour seeks to get out of the rough with its players
Weeks after pro golfers raised complaints about how they have been treated in the PGA Tour's negotiations with Saudi Arabia's Public Investment Fund over a shake-up of the sport, they have finally received some concessions from the tour.
Among them is the appointment (at the tour's expense) of Colin Neville, a partner at the merchant bank Raine, to advise players in the deal talks, DealBook's Lauren Hirsch and The Times's Alan Blinder and Kevin Draper report. The move underscores the circuit's efforts to ease the worries of some of its most important figures.
Hiring Neville is meant to help restore trust in the deal negotiations, with the banker advising players who are members of the PGA Tour's board, including Patrick Cantlay, Rory McIlroy and Webb Simpson.
"I'm confident Colin's perspective and expertise will help ensure a transparent, efficient, and collaborative process," Jay Monahan, the PGA Tour commissioner, wrote in a memo to PGA Tour members on Wednesday.
The PGA Tour extended another olive branch to players, agreeing to give them a say in picking the successor to Randall Stephenson, the former AT&T chief who resigned this month from the group's board. Mr. Stephenson had deep reservations about the tentative deal and the secretive process that led to it. In a departure from usual practice, Mr. Monahan said that Mr. Stephenson's replacement would require the unanimous support of the board, including the players who sit on it.
The tour is also trying to find a way to reward loyal players. Mr. Monahan wrote that the PGA Tour was working on a "financially significant" plan to compensate players who stuck with the circuit, even as the Saudi-backed LIV Golf circuit dangled large purses and enormous guaranteed contracts to defectors. The tour has also created a task force to determine how to handle players who jumped to LIV Golf series and may want to return.
The next significant step in all these efforts will come in Memphis, where Mr. Monahan — who recently returned from medical leave — is expected to meet with players on Aug. 8.
THE SPEED READ
Deals
Trading giants including Citadel Securities and Virtu have been hurt by the market slowdown. (FT)
Amid a downturn in start-up activity, Sequoia and Y Combinator have laid off staff. (Bloomberg)
Policy
Prosecutors asked a federal judge to revoke the bail of Sam Bankman-Fried, the disgraced crypto mogul. (WSJ)
Gov. Ron DeSantis of Florida canceled two fund-raising events in the Hamptons recently, reportedly over a lack of interest from donors. (New York Post)
Best of the rest
"At Congressional Hearing on U.F.O.s, Lawmakers Press for Answers." (NYT)
Sinead O'Connor, the outspoken Irish singer and activist, has died. She was 56. (We suggest listening to her cover of Nirvana's "All Apologies.") (NYT)
The New York Times Climate Forward event will bring together some of climate's most vital newsmakers in one room in New York City in September. You can join them.
We'd like your feedback! Please email thoughts and suggestions to [email protected].
Andrew Ross Sorkin is a columnist and the founder and editor at large of DealBook. He is a co-anchor of CNBC's "Squawk Box" and the author of "Too Big to Fail." He is also a co-creator of the Showtime drama series "Billions." More about Andrew Ross Sorkin
Bernhard Warner joined the The Times in 2022 as a senior editor for DealBook. Previously he was a senior writer and editor at Fortune focusing on business, the economy and the markets. More about Bernhard Warner
Sarah Kessler is a senior staff editor for DealBook and the author of "Gigged," a book about workers in the gig economy. More about Sarah Kessler
Michael de la Merced joined The Times as a reporter in 2006, covering Wall Street and finance. Among his main coverage areas are mergers and acquisitions, bankruptcies and the private equity industry. More about Michael J. de la Merced
Lauren Hirsch joined The Times from CNBC in 2020, covering deals and the biggest stories on Wall Street. More about Lauren Hirsch
Ephrat Livni reports from Washington on the intersection of business and policy for DealBook. Previously, she was a senior reporter at Quartz, covering law and politics, and has practiced law in the public and private sectors.   More about Ephrat Livni
Source: Read Full Article