With Offices Vacant, London's Canary Wharf Seeks Growth Beyond Banking
6 min read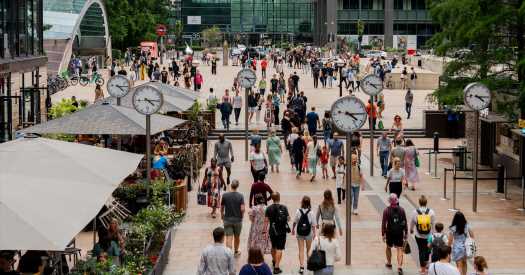 The gleaming skyscrapers of London's east skyline, built almost 40 years ago, are home to the headquarters of the world's biggest banks and tens of thousands of their office workers.
But when the workweek starts these days, the towers in Canary Wharf are quieter and the nearby restaurants are emptier — the result of a shift to remote work during the pandemic that sent office markets around the world plunging and vacancy rates rising. As firms adjust to hybrid work, many are downsizing their physical footprint.
HSBC became the latest, announcing recently that it would leave its longtime headquarters in Canary Wharf in late 2026 and move its 8,000 employees to a smaller space in London's central banking district about three miles to the west. Its departure, on the heels of several other firms, has spurred speculation over the future of a district.
The move comes as the owners of Canary Wharf, a purpose-built, 128-acre financial services hub, are pivoting to re-energize it, adding more residences, building labs to lure life-sciences groups and hosting cultural shows and activities. Their vision, one that has become more crucial because of the pandemic, is to make the district a place to live, work and play — and not just for bankers.
There is evidence the effort is starting to bear fruit. Now, the high-rises are full of residents who walk their dogs along the district's waterways. Grassy areas among the office towers have transformed into makeshift outdoor cinemas, and swimmers brave the waterways between the glass buildings. Several life-science start-ups and health care companies have moved in and traffic to the Canary Wharf rail station on weekends in June is nearly twice as high as before the pandemic.
"It would be naïve to think that Canary Wharf hasn't been thinking about how to deal with this issue for a long time," said Alexander Jan, chief economic adviser for the London Property Alliance, an advisory group for property investors and developers. "They are in a very strong position to be able to adapt."
Skeptics were once uncertain the district could survive. Formerly a deserted dockland until the 1980s when developers and businessmen saw potential for vast offices, Canary Wharf weathered a commercial real estate crash in the 1990s, the bankruptcy in 1992 of its first developers, Olympia & York, and fierce competition with London's oldest banking district before being bought by the investment group Brookfield Property Partners and Qatar's sovereign wealth fund in 2015.
The Canary Wharf Group declined to comment on HSBC's departure. But the strains it faces have also hit downtown districts in cities like Chicago, New York, Houston and San Francisco, as landlords struggle to lease vacant office space. The value of commercial real estate in the United States tumbled $506.3 billion in the three years that ended in 2022, according to one estimate.
That has also left many landlords in a showdown with lenders, who are less willing to extend loans to owners of office buildings, at a time when rising interest rates have increased the cost of borrowing.
Britain's capital is experiencing the same difficulties, though to a lesser extent. Commercial real estate values in the city have declined, but the office vacancy rate in central London was 8.4 percent in the first three months of 2023, according to the real estate subsidiary of the French bank BNP Paribas, and 17.3 percent in Canary Wharf, according to the real estate consultant Knight Frank. Comparatively, Lower Manhattan had a record 25.6 percent vacancy rate in the same period, according to the real estate firm Colliers.
The Canary Wharf Group, which owns the land and about 40 percent of its development, will have to outlast the difficulties ahead. In a May report, the credit ratings firm Moody's downgraded the debt of the Canary Wharf Group, citing the distressed market, an upcoming 1.4 million pounds of debt refinancing and the pressure to sell assets at a discount.
In response to the downgrade, the group said it was in a "strong financial position," calling the report a reflection of the broader market and pointing out that its assets total 3.6 billion pounds, or $4.7 billion.
Apart from HSBC, other departures include Clifford Chance, an international law firm, which has cited flexible space requirements among the reasons it will move to a central London office in 2028. There is a chance that more could follow — the recent takeover of Credit Suisse by the Swiss banking group UBS, and reports of ensuing layoffs, has raised questions over its tenancy at its Canary Wharf tower.
Clifford Chance, UBS and Credit Suisse declined to comment.
But even if more firms leave, analysts say that companies in other sectors — perhaps ones that would have otherwise been priced out of central London — will eventually replace them.
"I'd be surprised if this was the beginning of some sort of end," Anthony Travers, professor of public policy at the London School of Economics and Political Science, said, adding that many companies saw prestige in keeping a base in city centers.
Others agreed, saying the HSBC tower has a cachet that will draw other businesses.
"It's an iconic building across the skyline of London — it's not necessarily going to go away," said Kanav Gupta, an architect working in the district. "One behemoth goes — there's always something that takes its place."
One of Canary Wharf's major bets, in a city that has struggled with an undersupply of housing, lies a 23-acre housing district that is walking distance from the skyscrapers where 2,300 residences are under construction, which analysts said could help the developer hedge against the impact of remote work. The group has signaled that making the area more livable is among its priorities, including adding schools and stores, as well as more greenery and opportunities to engage with the water.
Megan Jones, 28, was among the first of the district's 3,400 dwellers after it opened to residents three years ago. In the beginning, she said, the district was a ghost town on the weekends. But music and chatter from the bars surrounded her on a recent Friday when she went for a walk with her husband and baby. "It's definitely a lot busier than it was," she said. "We love it."
Another bet is to attract businesses in the flush life sciences and health care sector, which has swept up vacant office space in North America for lab use. Canary Wharf executives have said their strategy is to make the district one of Europe's leading centers for life sciences.
Biotech companies, start-ups, government health care agencies have already set up camp. But Canary Wharf's next milestone will be a 22-story life-sciences building, expected to be completed in 2024, with hopes it will create a European life-sciences hunt — an ambition shared by British elected officials, including Jeremy Hunt, the chancellor of the Exchequer.
In some ways, the long-term strategy appears to be working. The number of visitors to Canary Wharf during a recent June workweek matched prepandemic levels, according to the agency that oversees London's transport. On a weekend, traffic surpassed prepandemic levels by 181 percent.
Traffic has been substantially bolstered by the opening of a new rail service, the Elizabeth line, which connects the district to central London and Heathrow Airport. Shobi Khan, the chief executive of the Canary Wharf Group, which poured £150 million into the rail line's development, called the Elizabeth line a "game-changer."
At restaurants, office workers still dominate the lunch service midweek, said David Janszki, general manager of Big Easy, a restaurant in Canary Wharf. "The main thing we realized after the pandemic is that Thursdays is the new Friday," he said. The weekends are still busy, he said, with some diners from outside London coming for brunch.
Still, Londoners used to seeing Canary Wharf as a white-collar hub are not yet sold on spending more time than necessary there. Jordan Croucher, an I.T. worker who said despite the accessible transportation to the rest of the city, he was relocating farther south to seek more parks and be closer to friends. "I've tried it, and it's not for me," he said.
And Genna Greenidge, 39, who was meeting friends after work for a drink on a recent Friday, said Canary Wharf was a place to start the night, but not end it. "There's a little bit of a human touch that still feels like it's missing," she said.
Isabella Kwai is a breaking news reporter in the London bureau. She joined The Times in 2017 as part of the Australia bureau. More about Isabella Kwai
Source: Read Full Article