Business Leaders Join Biden in Welcoming Modi to the U.S.
9 min read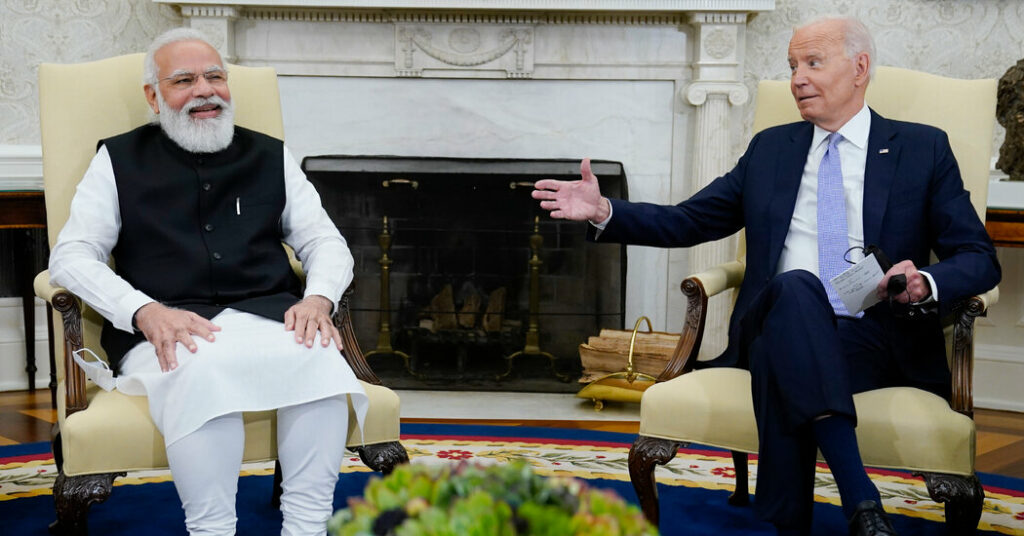 Biden rolls out the red carpet for Modi and business is watching
The White House is rolling out the red carpet for Narendra Modi, India's prime minister, with a state dinner on Thursday. High on the agenda: Talks to strengthen economic and security ties as the Biden administration cultivates partners to counter China. Business is watching closely, too, as it pours money into one of the world's fastest-growing big economies despite the challenges of operating there.
Elon Musk is on board. The Tesla and SpaceX C.E.O. met Mr. Modi in New York on Tuesday and said India had more promise than any other big country. Enticed by the country's sustainable energy potential, Mr. Musk said he hoped his electric carmaker could start doing business there "as soon as humanly possible."
India is booming. Mr. Modi has cannily managed to stay in the good graces of the West and Russia since the Kremlin declared war on Ukraine. It has been a huge beneficiary of cheap Russian oil, which, in turn, has made it a high-growth, (relatively) low-inflation standout on the world stage.
Investors have flocked to the country, as have commercial giants. And, its I.P.O. market is strong, thanks to a vibrant entrepreneurial scene and tech sector.
But Mr. Musk made no mention of India's pressure on one of his other companies. Twitter's co-founder Jack Dorsey accused India of trying to shut down the platform in the country in 2020-21 — before Mr. Musk bought it — for refusing to remove content critical of the government. The government has denied that accusation but India has plummeted in democracy rankings.
Big questions abound about India, Inc. Apple has expanded production in the country but the transition is reportedly off to a rocky start. According to The Financial Times, the iPhone maker was seeing factory defect rates soar this year compared with its manufacturing output in China.
And a short-seller attack by Hindenburg Research on Adani Group, a sprawling Indian conglomerate founded by a close ally of Mr. Modi, has raised concerns about crony capitalism and less-than-transparent accounting standards. The Adani Group denies the accusations.
None of this is hitting Mr. Modi's popularity at home. A secret to that is his iron grip on the flow of information. As The Times's Mujib Mashal reports, "This is particularly true of broadcast media — large parts of the nightly news consist of anchors declaring Mr. Modi's greatness and defending him against any criticism."
HERE'S WHAT'S HAPPENING
A surveillance plane picks up underwater noises in the search for the missing submersible. Rescuers are searching for the source of the sounds, while worrying about dwindling oxygen levels in the submersible, Titan. The company that runs the vessel, OceanGate, was warned years ago about potentially "catastrophic" safety issues.
Britain grapples with stubbornly high inflation. Consumer prices there rose 8.7 percent in May, holding steady as a cost-of-living crisis persists. On Thursday, the Bank of England is expected to raise interest rates for a 13th consecutive time, to 4.75 percent.
Samuel Alito is under scrutiny for a trip with the hedge fund mogul Paul Singer. The Supreme Court justice did not disclose a 2008 flight to an Alaskan fishing trip on a private jet provided by Mr. Singer, whose Elliott Management has been involved in cases before the court, ProPublica reports. Mr. Alito took the unusual step of defending his behavior in a Wall Street Journal opinion article before ProPublica's article was published.
The TV super-producer Ryan Murphy is poised to jump to Disney from Netflix. Mr. Murphy, whose hits include "Monster: The Jeffrey Dahmer Story," is in advanced talks to rejoin a team that helped produce earlier successes of his like "American Horror Story," five years after signing a $300 million production deal with Netflix five years ago. Separately, Netflix is reportedly in talks to license some content from Warner Bros. Discovery.
Masa Son is back
For months, Masa Son, SoftBank's voluble founder, kept quiet, as his tech conglomerate has struggled with huge investment losses.
But as the world races to embrace artificial intelligence — something that has long fascinated him — Mr. Son used his company's annual shareholder meeting on Wednesday to publicly, and memorably, restate his commitment to becoming a leader in the cutting-edge technology.
"We are ready to shift to offense mode," Mr. Son told investors and analysts, adding: "I want SoftBank to lead the A.I. revolution." Reviving the kind of grand presentations that he long favored — who can forget the "valley of coronavirus" slide in 2020, featuring flying unicorns? — the SoftBank chief began by asking, "What is Mankind?"
The answer, apparently, is something that can benefit from the technology behind chatbots, which has already spurred an investment boom. (To be fair, the potential of A.I. was one of several central theses behind SoftBank's $100 billion first Vision Fund.) "When your grandkids are our age, I believe they will be living in a reality where the computer is 10,000 times smarter than the sum of all human wisdom," he said on Wednesday. Where SoftBank would fit in, he added, was to try and "become an architect to build the future of humankind."
Mr. Son argues that SoftBank has better days ahead. While the company's Vision Funds have suffered big paper losses amid the decimation of start-up valuations, he said that SoftBank has since amassed over $35 billion in cash in "defense mode," and was ready to invest it. (The company also stands to benefit from the forthcoming I.P.O. of Arm, the chip designer it owns.)
And Mr. Son said he's excited again, after lying low last year. "There were times when I felt so empty," he told investors. 'Is this enough? Is this it?' I cried and cried and couldn't stop crying for days." Now, he added, "I'm having too much fun."
The Justice Department's new playbook for bank deals
After the regional banking turmoil of the spring, Washington officials including Treasury Secretary Janet Yellen have suggested that the United States may need consolidation to produce stronger banks that can withstand future crises.
But in a speech at the Brookings Institution on Tuesday, the Justice Department's antitrust chief, Jonathan Kanter, suggested that his division may cast a more critical eye on banking M.&A.
The Justice Department plans to change how it reviews bank mergers, including by resuming "competitive factor reports" to the main regulators who oversee such transactions, including the Fed and the F.D.I.C. (It had stopped sending those reports several decades ago.)
More important, the department will consider a broader range of potential effects from a deal beyond concentrations in deposits and overlap of branches, including on fees, interest rates and customer service.
And if banks proceed with a transaction that Mr. Kanter's team opposes, the department could sue, as it did to block Philadelphia National Bank's effort to merge with Girard Trust Corn Exchange Bank in 1963.
That could chill efforts to consolidate U.S. banking. While the country has fewer regional lenders than it once did — about 4,100, down from about 10,000 in 1990 — some in the industry believe that's still too many. Canada has about 30 banks.
Bank executives and deal makers have stressed that smaller banks will face more challenges in complying with capital requirements meant to head off the kind of runs that felled Silicon Valley Bank. (Goldman Sachs analysts have estimated that regulatory pressures could subtract 3 percent to 6 percent from smaller banks' return on equity.)
"Do you even want us to exist?" Ken Vecchione, the C.E.O. of Western Alliance, which was battered during the recent crisis, said he has recently been asking regulators.
"We're running water through pipes that haven't had water run through them in a long time. So where are there going to be leaks?"
— Jennifer Christie, the chief people officer of the software maker DocuSign. The company is planning to test tweaks to its hybrid-working system this summer, as corporate America pushes employees to return to the office full-time.
D.C. heads to Detroit as car wars heat up
Lawmakers descended on Detroit on Tuesday for a "fact-finding mission" that quickly turned political over the car companies' ties to China.
At a gathering with the C.E.O.s of Ford and General Motors, Jim Farley and Mary Barra, Congress members from the right and left sent the message that decoupling from China was becoming an economic and security imperative.
Ford faced a grilling. Lawmakers asked about its plans, announced in February, to build a $3.5 billion factory in Michigan producing electric vehicle batteries with technology licensed from the Chinese manufacturer CATL, a deal that shows the difficulty of decoupling supply chains.
Ford could qualify for special tax credits. The Inflation Reduction Act aimed to incentivize domestic battery making, and Ford may stand to benefit even though its partner has close ties to the Chinese government.
Ford has insisted benefits won't accrue to CATL, adding that domestic manufacturing is good for the economy. But critics say the deal undermines the I.R.A. "The goal of the Inflation Reduction Act was to reduce dependency on China — we want to make sure we're advancing towards that goal," said, Representative Mike Gallagher of Wisconsin, the top Republican on the recently created House committee on competition with China.
Raja Krishnamoorthi of Illinois, the top Democrat on that committee, left the meetings with similar concerns. He said the U.S. should be doing more to favor American businesses in this emerging sector, and investing heavily in innovation to shake dependence on Chinese supply.
The politicians said they didn't go to Detroit to pressure Ford, but the carmaker's CATL alliance has become a hot political topic. Marco Rubio of Florida, the top Republican on the Senate Intelligence Committee and a longtime China hawk, introduced legislation in March to block tax credits for batteries produced using Chinese tech. He called for an immediate review of the Ford deal by the Treasury Department's Committee on Foreign Investment in the United States.
Neither Ford nor the Treasury Department responded to a request for comment.
THE SPEED READ
Deals
KKR will buy up to $44 billion worth of buy-now-pay-later loans from PayPal, as the investment firm works to expand its growing private-credit business. (Bloomberg)
Middle Eastern state-backed companies, flush with cash, are looking to spend billions on plastics and metals producers. (Bloomberg)
"Inside the Escalating Feud at One of Wall Street's Biggest Hedge Funds" (WSJ)
Policy
Gannett, the newspaper publisher, sued Google over what it said were abuses of the tech giant's dominance in advertising technology. (NYT)
Chris Christie has drawn big-name corporate donors for his 2024 presidential campaign — but his highest-profile ally, the financier Steve Cohen, is staying quiet for now. (CNBC)
A federal judge plans to unseal the names of the three people who helped Representative George Santos, Republican of New York, make bond in the criminal case against him. (CBS News)
Best of the rest
Could Robert DeNiro's $6 million lawsuit against an assistant become as influential as his biggest films? (Puck)
Amazon's second headquarters in Virginia isn't living up to its economic hype. (CNBC)
The Times Opinion columnist Paul Krugman asks: "Is Taylor Swift underpaid?" (NYT Opinion)
We'd like your feedback! Please email thoughts and suggestions to [email protected].
Andrew Ross Sorkin is a columnist and the founder and editor at large of DealBook. He is a co-anchor of CNBC's "Squawk Box" and the author of "Too Big to Fail." He is also a co-creator of the Showtime drama series "Billions." @andrewrsorkin • Facebook
Ravi Mattu is the managing editor of DealBook, based in London. He joined The New York Times in 2022 from the Financial Times, where he held a number of senior roles in Hong Kong and London. @ravmattu
Bernhard Warner joined the The Times in 2022 as a senior editor for DealBook. Previously he was a senior writer and editor at Fortune focusing on business, the economy and the markets. @bernhardwarner
Sarah Kessler is a senior staff editor for DealBook and the author of "Gigged," a book about workers in the gig economy. @sarahfkessler
Michael de la Merced joined The Times as a reporter in 2006, covering Wall Street and finance. Among his main coverage areas are mergers and acquisitions, bankruptcies and the private equity industry. @m_delamerced • Facebook
Lauren Hirsch joined The Times from CNBC in 2020, covering deals and the biggest stories on Wall Street. @laurenshirsch
Ephrat Livni reports from Washington on the intersection of business and policy for DealBook. Previously, she was a senior reporter at Quartz, covering law and politics, and has practiced law in the public and private sectors.   @el72champs
Source: Read Full Article