More Charges Against Trump
7 min read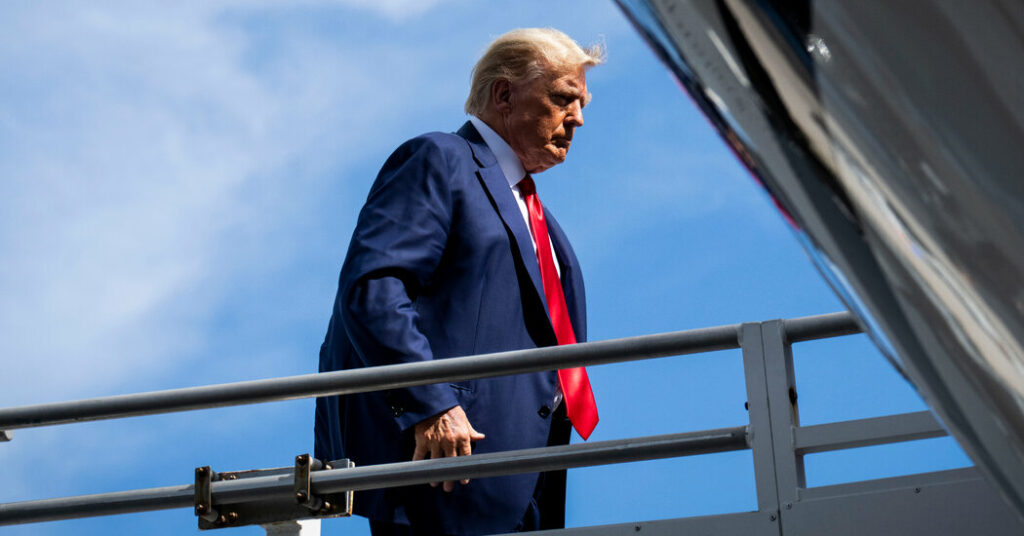 Donald Trump is facing more criminal charges in a federal case accusing him of mishandling classified documents.
The new allegations are in a revised indictment from the special counsel's office released last night. It added three charges: attempting to "alter, destroy, mutilate, or conceal evidence"; asking someone else to do so; and a new count under the Espionage Act.
Today's newsletter will explain the new charges and why they matter to the case.
The charges
The first two charges are connected. Prosecutors said that Trump asked the property manager of Mar-a-Lago, his Florida home, to have surveillance camera footage deleted. That video was important to the special counsel's investigation into whether boxes of documents were moved to avoid complying with a federal subpoena.
The property manager, Carlos De Oliveira, is now also charged in the case. He told a Mar-a-Lago information technology expert that "'the boss' wanted the server deleted," according to the revised indictment. After the employee said he did not know how to delete the footage, or whether he had the right to do so, De Oliveira restated the request from "the boss" and asked, "What are we going to do?"
The third charge, under the Espionage Act, concerns a memorable scene from the original indictment. An audio recording captured Trump at his golf club in Bedminster, N.J., showing visitors a classified document that detailed battle plans against Iran. Trump could be heard admitting to having the document and acknowledging that it was confidential.
Now that at least one of the charges is linked to the Iran document, the recording could become more damning in court, by directly tying Trump's own remarks to one of the crimes that he's accused of.
The indictment indicates that prosecutors have the document itself and details the dates that Trump possessed it, undermining his earlier claims that he never had it and was simply blustering.
Trump's campaign called the new accusations a "desperate and flailing attempt" by the Justice Department to undercut him.
The bottom line
As this newsletter has noted before, it is not unusual for federal officials to misplace or accidentally keep classified documents when they leave office. Such files were found in the homes of President Biden and former Vice President Mike Pence. What is unusual in Trump's case is his attempts to keep the papers, even after federal officials asked him to return them.
The new charges help demonstrate the exceptional nature of Trump's actions. If the accusations are true, Trump not only tried to keep documents that he knew he was not supposed to have, but he also tried to cover up his attempts to hold onto the files by deleting video evidence.
More on the indictment
Some legal experts think De Oliveira is likely to end up cooperating with prosecutors to avoid prison time. "This is a defendant who has almost no choice but to flip," Joyce Vance, a former U.S. attorney, said on MSNBC.
But the new charges may slow the case, currently set to go to trial next May, and could even push it past the 2024 election. "For Trump, his best defense is delay," Kim Wehle, a University of Baltimore law professor, writes in The Bulwark.
Trump's lawyers met yesterday with the special counsel's office, which is also investigating his efforts to overturn the 2020 election. Charges in that case — which appear likely soon — would add substantially to Trump's legal peril. (Track all the Trump investigations here.)
The Times's Charlie Savage annotated the indictment.
THE LATEST NEWS
Extreme Weather
July is on track to be the hottest month globally since record-keeping began in 1850.
The Northeast faces another day of oppressive heat and humidity, with the heat index reaching as high as 110 in New York.
Dangerous heat is expected to settle into the Southeast by the weekend. See the forecast.
The Labor Department will increase heat-safety inspections in construction and agriculture and for other vulnerable workers.
Politics
The Senate passed bipartisan military policy legislation, setting up a clash with the House, which added conservative mandates on abortion and gender to its version of the bill.
After budget troubles and staff layoffs, Ron DeSantis began a slimmed-down reboot of his presidential campaign in Iowa.
Mitch McConnell's apparent medical episode has stirred talk about who could succeed him as the Senate Republican leader.
War in Ukraine
Ukraine's offensive made small gains, but the scope of the assaults and their toll remained unclear.
Russia's president, Vladimir Putin, promised free grain to several African countries after his blockade on Ukrainian exports disrupted the global food supply.
Economy
The U.S. economy grew 2.4 percent in the second quarter, more than experts expected.
Economists increasingly think that the U.S. can bring down inflation without causing a recession. But they've been wrong about that before.
Other Big Stories
The Justice Department will investigate allegations of violence and discrimination by the police in Memphis, months after the fatal beating of Tyre Nichols.
Russian oligarchs in Britain have gotten permits to spend lavishly on perks like private chefs and chauffeurs, despite ostensibly having their bank accounts frozen.
Google has begun plugging A.I. language models into robots, giving them the equivalent of artificial brains.
A judge ordered the release of three of the "Newburgh Four," who were convicted in 2010 of a plot to blow up synagogues. The judge suggested that the F.B.I. invented the conspiracy.
"Everybody's punching bag": Former classmates said the suspect in the Gilgo Beach serial killings was an outcast with a mean streak.
Opinions
The pain of losing a loved one to an overdose is crushing. But prosecuting drug dealers as murderers does more harm than good, Maia Szalavitz says.
Here are columns by Thomas Friedman on Saudi-Israeli relations, Paul Krugman on Twitter's rebrand and Michelle Goldberg on Republicans' push to impeach Biden.
MORNING READS
The king's swans: An annual bird count on the Thames found a worrisome drop.
Titanium clouds: Astronomers have come across the shiniest planet ever found.
"Phubbing": Ignoring a partner in favor of your phone can breed distrust.
Modern Love: Learning to hear "no," in acting, friendship and romance.
Lives Lived: Julian Barry's scripts for a Broadway play and Hollywood movie about Lenny Bruce became definitive portraits of the comedian as a truth teller who drove himself mad in a righteous struggle against hypocrisy. Barry died at 92.
WOMEN'S WORLD CUP
A hip-check from a Dutch player sparked a flash of anger and the only U.S. goal in the teams' tie.
Nigeria upset Australia, the tournament's co-host, which is in danger of failing to advance to the knockout rounds.
OTHER SPORTS NEWS
New coach bluster: In an interview, Broncos coach Sean Payton said his predecessor Nathaniel Hackett's performance last season was "one of the worst coaching jobs in the history of the N.F.L."
Home safe: Bronny James, LeBron James's son, was discharged from the hospital after a cardiac arrest during a practice.
An unbelievable day: Shohei Ohtani spent the first half of a doubleheader throwing a shutout and the second hitting two home runs. He sounds energized for the Angels' surprise playoff push.
ARTS AND IDEAS
Tricks for a better vacation: Traveling is wonderful but can be taxing, whether you're planning for a group or coping with delays. The Times's Travel desk has tips for managing. One expert noted that during a flight delay, it's easier to get help if you leave the gate, where crowds gather, and find your airline's service desk. And when traveling with a group, ease stress by having a different person take ownership of each day's activities.
More on culture
Randy Meisner, a founding member of the Eagles, died at 77.
"Back to the Future: The Musical," which opens on Broadway next week, follows a story that will be familiar to fans of the film.
Jim Gaffigan, a master of family-friendly comedy, goes darker in his new stand-up special.
THE MORNING RECOMMENDS …
Stick with Fritos in this taco salad.
Upgrade your ice cube trays.
Cool off with this portable fan.
Save your skin — check whether it's time to toss products.
Take our news quiz.
GAMES
Here is today's Spelling Bee. Yesterday's pangram was unlovely.
And here are today's Mini Crossword, Wordle and Sudoku.
Thanks for spending part of your morning with The Times. See you tomorrow. — German
Correction: A chart in yesterday's newsletter misstated the change in gross domestic product for the first quarter of 2023. It grew 2 percent, not 2.6 percent.
P.S. Simon Romero is joining The Times's Mexico City bureau to cover migration, climate change and more.
Sign up here to get this newsletter in your inbox. Reach our team at [email protected].
German Lopez is a writer for The Morning, The Times's flagship daily newsletter, where he covers major world events and how they affect people. More about German Lopez
Source: Read Full Article