Tiered Work Forces
7 min read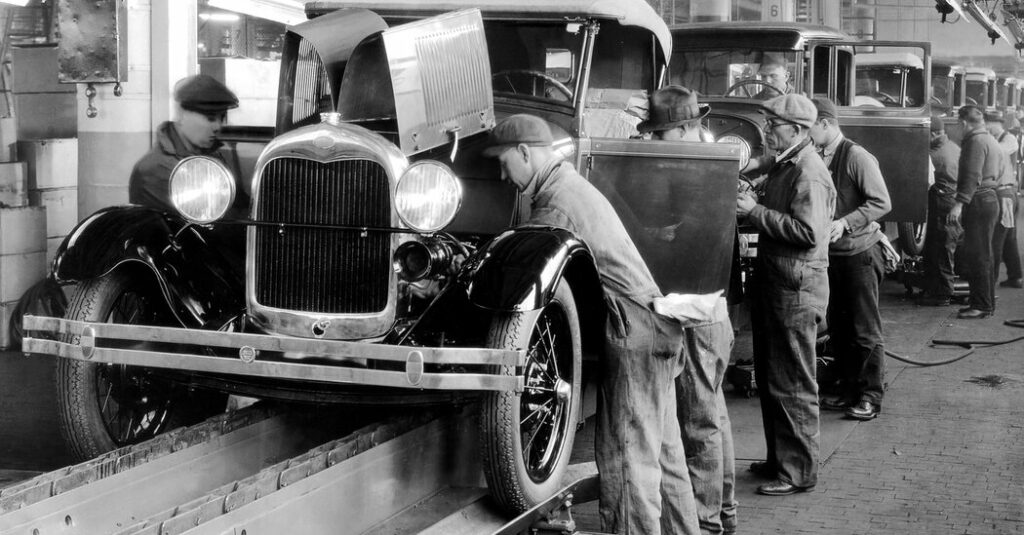 Universities devote a smaller share of faculty slots to tenured professorships than in the past — and hire more adjunct professors who have little chance for promotion. Law firms employ relatively fewer partners and more lawyers who are paid less. And Hollywood hires fewer writers to participate in the entire production process, relegating more of them to piecemeal work.
This trend is part of what my colleague Noam Scheiber calls "the fracturing of work," and it is a central issue in the Hollywood writers' strike that is now 11 weeks old. As one historian explained, there is increasingly a "tiered work force of prestige workers and lesser workers." The arrangement has its roots in manufacturing, Noam writes in a story that just published:
At the turn of the 20th century, automobiles were produced largely in artisanal fashion by small teams of highly skilled "all around" mechanics who helped assemble a variety of components and systems — ignition, axles, transmission.
By 1914, Ford Motor had repeatedly divided and subdivided these jobs, spreading more than 150 men across a vast assembly line. The workers typically performed a few simple tasks over and over.
Specialization does have big advantages. Companies can complete tasks more efficiently and inexpensively. But workers sometimes pay the price in the form of lower wages and less responsibility, especially if they are not unionized and lack bargaining leverage.
Piketty's rule
Screenwriters — who are unionized — have gone on strike in an attempt to use their collective leverage to avoid becoming Hollywood's equivalent of adjunct professors. Until the past decade, writers not only wrote scripts but also remained on set during filming and participated in the process. They offered thoughts about costumes and props and would tweak the script as the cast acted it out.
The producer Michael Schur has compared the job to an apprenticeship. Schur was a writer on "The Office," and the experience helped him learn how to create and run his own shows. Later, he did so, with "Parks and Recreation" and "The Good Place."
Today, only one or two writers remain with a show through production, while others produce scripts and are then dropped from the process. "The making of television is very compartmentalized now," John Koblin, who covers the television business for The Times, told me. "The writers write. The actors act. The directors direct." (John went into more detail as a guest on the NPR show "Fresh Air.")
As a result, writers' pay has stagnated even as streaming has led to a boom in the number of television shows. Studio executives say that they need to hold down costs in response to declining revenue from cable television and movie theaters. And those challenges are real, but the executives also seem to be using the shift to streaming as an excuse to change the economics of their industry in ways that are less favorable to many employees.
The trend is a microcosm of larger developments. Nationwide, the pay of the bottom 90 percent of earners has trailed well behind economic growth in recent decades (as you can see in these Times charts). Most Americans have not received their share of the economy's growing bounty, while a relatively small share have experienced very large income gains.
That's not shocking. As the economist Thomas Piketty has explained, inequality tends to rise in a capitalist economy, partly because the wealthy have more political power and economic leverage than the middle class and poor do. But history also shows that rising inequality is not inevitable.
There are forces that can push in the other direction. Rising educational attainment can give more people the skills to become specialists. Taxes on top incomes and large fortunes can redistribute wealth. Labor unions can give workers the bargaining power to prevent wage stagnation.
Hollywood writers — and, as of last week, actors too — are now trying to make such a push against inequality.
Here, you can read Noam's story — which details the accounts of writers from "The Mentalist," "Billions" and other shows.
For more
The actors' union exempted 39 independent film and TV projects from its strike.
Yes, you can watch Barbenheimer without crossing a picket line.
THE LATEST NEWS
Climate
More than 86 million Americans live with dangerous heat, and El Paso has endured 33 straight days of 100-degree temperatures. See the U.S. heat wave by the numbers.
Northeastern rain and Southern heat are spoiling summer camp.
Heat can be especially dangerous for people over 65. These are the warning signs.
Donald Trump
The letter that Donald Trump received from the special counsel suggests that prosecutors may use a civil rights statute to charge him over trying to reverse his 2020 election loss.
Indictments, lawsuits and a presidential campaign: Trump's schedule over the next 16 months will be unlike anything before.
President Biden, who is not shy about taking jabs at Trump, has remained notably quiet about the indictments.
War in Ukraine
Russia intensified its assault on Ukraine's food exports, attacking port facilities in Odesa and warning other countries that bypassing its Black Sea blockade would be an act of war.
The head of MI6, Britain's spy agency, said Vladimir Putin had "cut a deal" with the Wagner group leader Yevgeny Prigozhin during last month's rebellion to save face.
Ukraine allows soldiers displaced by Russia's invasion to join the fight to liberate their hometowns.
Education
Stanford's president, Marc Tessier-Lavigne, will resign after an investigation found flaws in his research.
Tessier-Lavigne's departure and the recent ouster of Northwestern's football coach have something in common: Both were driven by tenacious student newspapers.
Wesleyan University in Connecticut is ending admissions preferences for the relatives of alumni.
Other Big Stories
A gunman opened fire at a building site in Auckland, New Zealand, killing two people. The suspect's motive appeared connected to work at the site, not to the start of the Women's World Cup in the city.
Hundreds of protesters stormed the Swedish Embassy in Iraq and set part of it ablaze to protest a planned burning of the Quran in Stockholm.
A Powerball jackpot of more than $1 billion has a single winning ticket, sold in California.
The New York City subway is raising its base fare for the first time in years. A ride will be $2.90, up from $2.75.
Abortion-rights advocates are arranging free flights to bring patients to states where the procedure is legal.
Opinions
No Labels' flirtation with a third-party presidential campaign is a frivolous response to another potential Trump-Biden matchup, Katherine Miller writes.
Here is a column by Pamela Paul on the hazards of Biden's candidacy.
MORNING READS
Canine convention: Imagine wrangling 488 golden retrievers for a family portrait.
Beauty and bacteria: An endurance athlete plans to swim all 315 miles of the Hudson River.
Multiplying: Rabbits have overrun a Florida island.
Lives Lived: Kevin Mitnick was once one of the most wanted computer criminals in the U.S. After prison time, he became a security consultant and public speaker. He died at 59.
WOMEN'S WORLD CUP
The U.S. is favored to win its third straight Women's World Cup, which started today, but other countries have closed in on American dominance.
New Zealand upset Norway, 1-0, in the opening match — the country's first ever Women's World Cup victory.
See the schedule in your time zone, and sign up for The Times's daily tournament newsletter.
SPORTS NEWS
Northwestern's culture: Players were hazed for years at the football team's preseason camp, including through naked pull-ups and being forced to squeeze past soaped-up teammates to reach the showers.
Cementing victory: Jonas Vingegaard was on the brink of repeating as the Tour de France champion after opening up a nearly insurmountable lead in the final days of cycling's premier race, the BBC reports.
ARTS AND IDEAS
A highbrow hot dog: The most talked-about dish in New York this year is the $29 hot dog at Mischa, the restaurant critic Pete Wells writes. The dog is about nine inches long, with a natural casing that snaps and a filling of emulsified brisket with pork fat. It comes with inventive condiments.
"Considered as a public statement, the $29 hot dog is obnoxious, a flagrantly expensive lowbrow-highbrow stunt out of the Jeff Koons catalog," Wells writes. "If you can forget all this and just eat it, though, the $29 hot dog is glorious."
More on culture
"Oppenheimer" displays Christopher Nolan's virtuosity as a film director, Manohla Dargis writes. Read her review.
THE MORNING RECOMMENDS …
Tour Los Angeles for $5 by taking the subway.
Enliven tofu with a spicy soy dressing.
Drink that glass of wine. The latest health advice ignores pleasure, Emily Oster writes in The Atlantic.
Clean your air-conditioner.
GAMES
Here are today's Spelling Bee and the Bee Buddy, which helps you find remaining words. Yesterday's pangrams were whooping and whopping.
And here are today's Mini Crossword, Wordle and Sudoku.
Thanks for spending part of your morning with The Times. See you tomorrow. — David
P.S. Alice Callahan, who has a doctorate in nutritional biology, will be The Times's new nutrition reporter.
Sign up here to get this newsletter in your inbox. Reach our team at [email protected].
David Leonhardt writes The Morning, The Times's flagship daily newsletter. He has previously been an Op-Ed columnist, Washington bureau chief, co-host of "The Argument" podcast, founding editor of The Upshot section and a staff writer for The Times Magazine. In 2011, he received the Pulitzer Prize for commentary. More about David Leonhardt
Source: Read Full Article