Opinion | A Handy Guide to the Republican Definition of a Crime
6 min read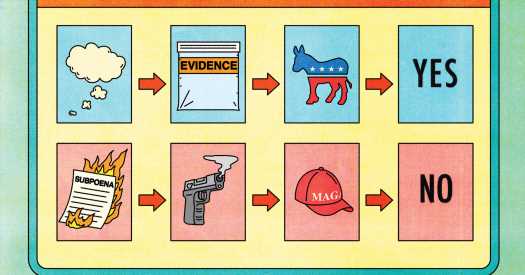 If you think Republicans are still members of the law-and-order party, you haven't been paying close attention lately. Since the rise of Donald Trump, the Republican definition of a crime has veered sharply from the law books and become extremely selective. For readers confused about the party's new positions on law and order, here's a guide to what today's Republicans consider a crime, and what they do not.
Not a crime: Federal crimes.
All federal crimes are charged and prosecuted by the Department of Justice. Now that Republicans believe the department has been weaponized into a Democratic Party strike force, particularly against Mr. Trump, its prosecutions can no longer be trusted. "The weaponization of federal law enforcement represents a mortal threat to a free society," Gov. Ron DeSantis of Florida recently tweeted.
The F.B.I., which investigates many federal crimes, has also become corrupted by the same political forces. "The F.B.I. has become a political weapon for the ruling elite rather than an impartial, law-enforcement agency," said Kevin D. Roberts, the president of the right-wing Heritage Foundation.
And because tax crimes are not real crimes, Republicans have fought for years to slash the number of I.R.S. investigators who fight against cheating.
Crime: State and local crimes, if they happen in an urban area or in states run by Democrats.
"There is a brutal crime wave gripping Democrat-run New York City," the Republican National Committee wrote last year. "And it's not just New York. In 2021, violent crime spiked across the country, with 14 major Democrat-run cities setting new record highs for homicide." (In fact, the crime rate went up in the city during the pandemic, as it did almost everywhere, but it has already begun to recede, and remains far lower than its peak in the 1990s. New York continues to be one of the safest big cities in the United States.)
Crime is so bad in many cities, Republican state leaders say, that they have been forced to try to remove local prosecutors who are letting it happen. Some of these moves, however, are entirely political; a New York Times investigation found no connection between the policies of a prosecutor removed by Mr. DeSantis and the local crime rate.
Not a crime: Any crime that happens in rural areas or in states run by Republicans.
Between 2000 and 2021, the per capita murder rate in states that voted for Donald Trump was 23 percent higher than in states that voted for Joe Biden, according to one major study. The gap is growing, and it is visible even in the rural areas of Trump states.
But this didn't come up when a Trump ally, Representative Jim Jordan of Ohio, held a hearing in New York in April to blast Manhattan's prosecutor for being lax on crime, even though rates for all seven major crime categories are higher in Ohio than in New York City. Nor does House Speaker Kevin McCarthy — who tweets about Democratic "lawlessness" — talk about the per capita homicide rate in Bakersfield, Calif., which he represents, which has been the highest in California for years and is higher than New York City's.
Crime: What they imagine Hunter Biden did.
The Republican fantasy, being actively pursued by the House Oversight Committee, is that Hunter Biden and his father, President Biden, engaged in "influence peddling" by cashing in on the family name through foreign business deals. Republicans have yet to discover a single piece of evidence proving this theory, but they appear to have no doubt it really happened.
Not a crime: What Hunter Biden will actually plead guilty to.
Specifically: two misdemeanor counts of failing to pay his taxes on time. Because tax crimes are not real crimes to Republicans, the charges are thus proof of a sweetheart deal to let the president's son off easy, when they would prefer he be charged with bribery and other forms of corruption. Mr. Trump said the plea amounted to a "traffic ticket." The government also charged Mr. Biden with a handgun-related crime (though it said it would not prosecute this charge); gun-purchasing crimes are also not considered real crimes.
Also not a crime: What the Trump family did.
There is vast evidence of actual influence-peddling and self-dealing by the Trump family and the Trump Organization during and after Mr. Trump's presidency, which would seem to violate the emoluments clause of the Constitution and any number of federal ethics guidelines. Just last week The Times published new details of Mr. Trump's entanglement with the government of Oman, which will bring his company millions of dollars from a Mideast power player even as he runs for re-election.
Crime: Hillary Clinton's use of a private email server while she was secretary of state.
"Hillary Clinton used a hammer to destroy evidence of a private e-mail server and classified information on that server and was never indicted," wrote Nancy Mace, a Republican congresswoman from South Carolina. In fact, a three-year State Department investigation found that instances of classified information being deliberately transmitted on Mrs. Clinton's server were a "rare exception," and determined that "there was no persuasive evidence of systemic, deliberate mishandling of classified information."
Not a crime: Donald Trump's mishandling of government secrets.
The Justice Department has accused Mr. Trump of willfully purloining classified documents from the White House — including top military secrets — and then lying about having them and refusing the government's demands that they be returned. Nonetheless, former Vice President Mike Pence warned against indicting his old boss because it would be "terribly divisive," and Mr. McCarthy said "this judgment is wrong by this D.O.J." because it treats Mr. Trump differently than other officials in the same position. (Except no other official has ever been in the same position, refusing to return classified material that was improperly taken from the White House.)
Crime: Any urban disruption that occurred during the protests after George Floyd was killed.
Republicans have long claimed that the federal government turned a blind eye to widespread violence during the 2020 protests, and in 2021 five Republican senators accused the Justice Department of an "apparent unwillingness to punish these individuals." In fact, though the protests were largely peaceful, The Associated Press found that more than 120 defendants around the country pleaded guilty or were convicted of federal crimes related to the protests, including rioting, arson and conspiracy, and that scores received significant prison terms.
Not a crime: The invasion of the United States Capitol on Jan. 6, 2021.
Many Republicans are brushing aside the insurrection that occurred when hundreds of people, egged on by Mr. Trump, tried to stop the certification of the 2020 electoral votes. "It was not an insurrection," said Andrew Clyde, a Republican congressman from Georgia, who said many rioters seemed to be on a "normal tourist visit." Paul Gosar, a Republican congressman from Arizona, described Jan. 6 defendants as "political prisoners" who were being "persecuted" by federal prosecutors. Mr. Trump said he was inclined to pardon many of the more than 600 people convicted, and Mr. DeSantis said he was open to the possibility of pardoning any Jan. 6 defendant who was the victim of a politicized or weaponized prosecution, including Mr. Trump.
Crime against children: Abortion and transgender care.
Performing most abortions is now a crime in 14 states, and 20 states have banned or restricted gender-affirming care for transgender minors (though some of those bans have been blocked in court).
Not a crime against children: The possession of guns that kill them.
The sale or possession of assault weapons, used in so many school shootings, is permitted by federal law, even though the leading cause of death for American children is now firearms-related incidents. Republicans will also not pass a federal law requiring gun owners to store their weapons safely, away from children. It is not a federal crime for unlicensed gun dealers to sell a gun without a background check, which is how millions of guns are sold each year.
Any questions? Better not call CrimeStoppers.
The Times is committed to publishing a diversity of letters to the editor. We'd like to hear what you think about this or any of our articles. Here are some tips. And here's our email: [email protected].
Follow The New York Times Opinion section on Facebook, Twitter (@NYTopinion) and Instagram.
David Firestone, a former reporter and editor for the Washington bureau and the Metropolitan and National desks of The Times, is a member of the editorial board.
  @fstonenyc
Source: Read Full Article