Your Thursday Briefing: A Dangerous Haze Across North America
6 min read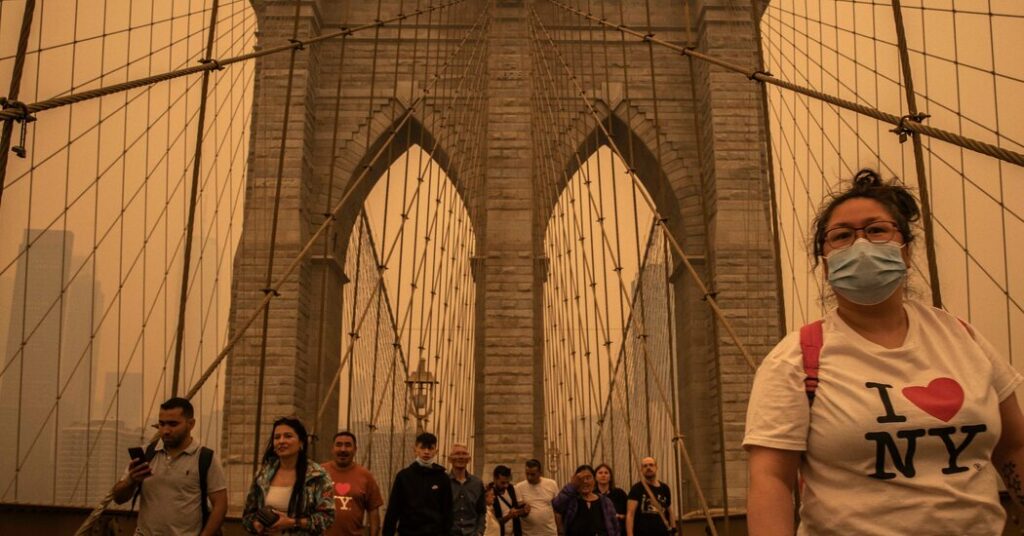 Also, evacuations from flooding in Ukraine.
By Amelia Nierenberg
Smoke and unhealthy air across North America
At least 400 wildfires burning across Canada have triggered air pollution warnings across North America. The smoke hovered over major cities in Canada and the northern U.S., blotting out the sun and bringing home the realities of climate change for people who have rarely experienced the effects of forest fires firsthand.
In the U.S., warnings were in effect across a wide portion of the Northeast and Midwest. Philadelphia was under a "code red," meaning sensitive groups could be at risk. In New York City, the air quality was the worst since the Environmental Protection Agency began measurements in 1999. Experts warned that the air in Toronto and elsewhere was likely to worsen in the coming days. Here's a map of the smoke.
"I left a window open last night and the top of my laptop, the desk and the window sill all had ash on them," my colleague Ian Austen told us from Toronto. "I could've written my name in it."
Even though it's not officially summer yet in the Northern Hemisphere, it's already a season of extremes. Puerto Rico is under a severe heat alert. The oceans have rapidly heated up. The events show how unprepared the world's richest continent is for the hazards of the not-too-distant future.
In Canada: Wildfire seasons typically burn large sections of forests and grasslands each year between May and September. But the fires have scorched an area 10 times larger than usual. Firefighters have been dispatched from the U.S., South Africa, France, Australia and New Zealand to assist Canada in battling the flames.
Worldwide: While the air quality levels are unusual for North America, they would not be a cause for alarm in Jakarta or New Delhi. South Asia has nine of the world's 10 cities with the worst air, and hazardous pollution causes an estimated two million premature deaths a year, according to the World Bank.
Floodwaters sweep Ukraine
The destruction of the Kakhovka dam in southern Ukraine caused widespread flooding in Ukrainian- and Russian-held areas, affecting tens of thousands of people.
In Kherson, rescuers staged a complete evacuation of a neighborhood cut off from the rest of the city by inundated streets. Residents spilled out of rubber boats, exhausted, carrying a purse or a backpack and sometimes a cat or dog.
The flooding hit an area ravaged by war. "We were getting used to the shelling, but I've never seen a situation like this," a retired nurse said. "It just keeps coming."
The destruction of the dam could cut off the water supply to farmland. "The fields in the south of Ukraine may turn into deserts as early as next year," the agriculture ministry said.
The floodwaters are also likely to be polluted with toxic chemicals, scientists said, including machine oil from an engine room at the dam, and chemicals and toxins from sewage pits, farmland, cemeteries and gas stations. Here are maps of the flooding.
Who is responsible: Engineering and munitions experts said that a deliberate internal explosion probably caused the dam's destruction, though they also cited a structural failure or an attack from outside the dam as possible, if less plausible, reasons.
Hong Kong wants to ban a protest song
The government asked a court this week to ban public performances of "Glory to Hong Kong" and stop it from circulating online. The move is seen as a test of how much Hong Kong can control online content, and could be the beginning of a showdown with tech giants.
The song, popularized during pro-democracy protests in 2019, is available in Hong Kong on most major online platforms. The authorities have already criticized Google for displaying it under search results for Hong Kong's national anthem.
The government's request for a court injunction against the protest song, made on Monday, is the latest attempt by Hong Kong to root out remaining vestiges of political dissent in the city.
Background: Hong Kong has banned the song in schools. When it was played in error last year instead of the Chinese national anthem, at a rugby match in South Korea, the Hong Kong government demanded an investigation.
THE LATEST NEWS
Around the World
The Darfur region of Sudan, already blighted by two decades of genocidal violence, has descended into chaos again after fighting erupted last month between forces loyal to two warring generals.
Chris Licht, CNN's chairman, is leaving the network after just 13 months in the job. His run at CNN was marked by controversies as well as a drop in ratings and profits.
During Prince Harry's second day of testimony, he cast suspicion on tabloid stories that cited "palace sources."
Other Big Stories
The Turkish lira plunged 7 percent against the U.S. dollar as a newly appointed finance minister promising "rational" economic policy took charge.
Pope Francis, 86, was hospitalized for the second time in a little over two months, this time for intestinal surgery.
Rory McIlroy, a star golfer and critic of the Saudi-backed LIV Golf, begrudgingly backed its merger with the PGA Tour.
Lionel Messi said he would play in Miami, rejecting an enormous offer from Saudi Arabia.
Science Times
Scientists discovered a "virgin birth" in a crocodile: A perfectly formed stillborn had only its mother's genetic material.
A new theory claims that a relative of ancient humans buried their dead in caves, despite their tiny brains.
Birth control for cats? Gene therapy may offer a nonsurgical alternative to cutting down vast stray populations.
Birds sing. But are they making music?
A Morning Read
The Grand Canyon seems like a place outside of time. But the Colorado River, which runs through it, is in crisis: Climate change and growing populations in the West are sucking it dry.
My colleague Raymond Zhong joined a raft expedition to see the effects firsthand. Less water, he wrote, will mean big changes for the canyon, its riverside beaches, its rapids and its fish.
Lives Lived: Françoise Gilot began an affair with Pablo Picasso when she was 22 and he was 62. She became an accomplished painter and did something no other well-known lover of his had ever done: She walked out. She died at 101.
ARTS AND IDEAS
Barbs and stingers across the ages
When King Saul said, "Thou son of the perverse rebellious woman," he was effectively using the Old Testament version of the well-known "you S.O.B." In "Titus Andronicus," Shakespeare used a similar barb: "Villain, I have done thy mother."
My colleague Deb Amlen unearthed those tidbits, and many more, in her exploration of the history of insults. She found that insults haven't really evolved: They're still highly personal remarks about a person's status, appearance, sexual prowess or courage — or lack thereof.
PLAY, WATCH, EAT
What to Cook
Sneak anchovies into this pasta sauce.
What to Read
The actor Elliot Page reflects on his gender transition in his new memoir.
What to Watch
"Falcon Lake" is an eerie story of young summer love in the wilderness of Quebec.
What to Listen to
Check out these seven new songs.
Now Time to Play
Play the Mini Crossword, and a clue: Some beers (four letters).
Here are the Wordle and the Spelling Bee. You can find all our puzzles here.
That's it for today's briefing. See you tomorrow. — Amelia
P.S. Like Wordle? Try Wordle Golf.
"The Daily" is about a Times investigation into migrants abandoned at sea by Greece.
Help us improve this newsletter. Send us feedback at [email protected].
Amelia Nierenberg writes the Asia Pacific Morning Briefing for The Times. @AJNierenberg
Site Index
Site Information Navigation
Source: Read Full Article