Biden's Labor nominee plans to make it personal as Senate vote hangs in the balance
3 min read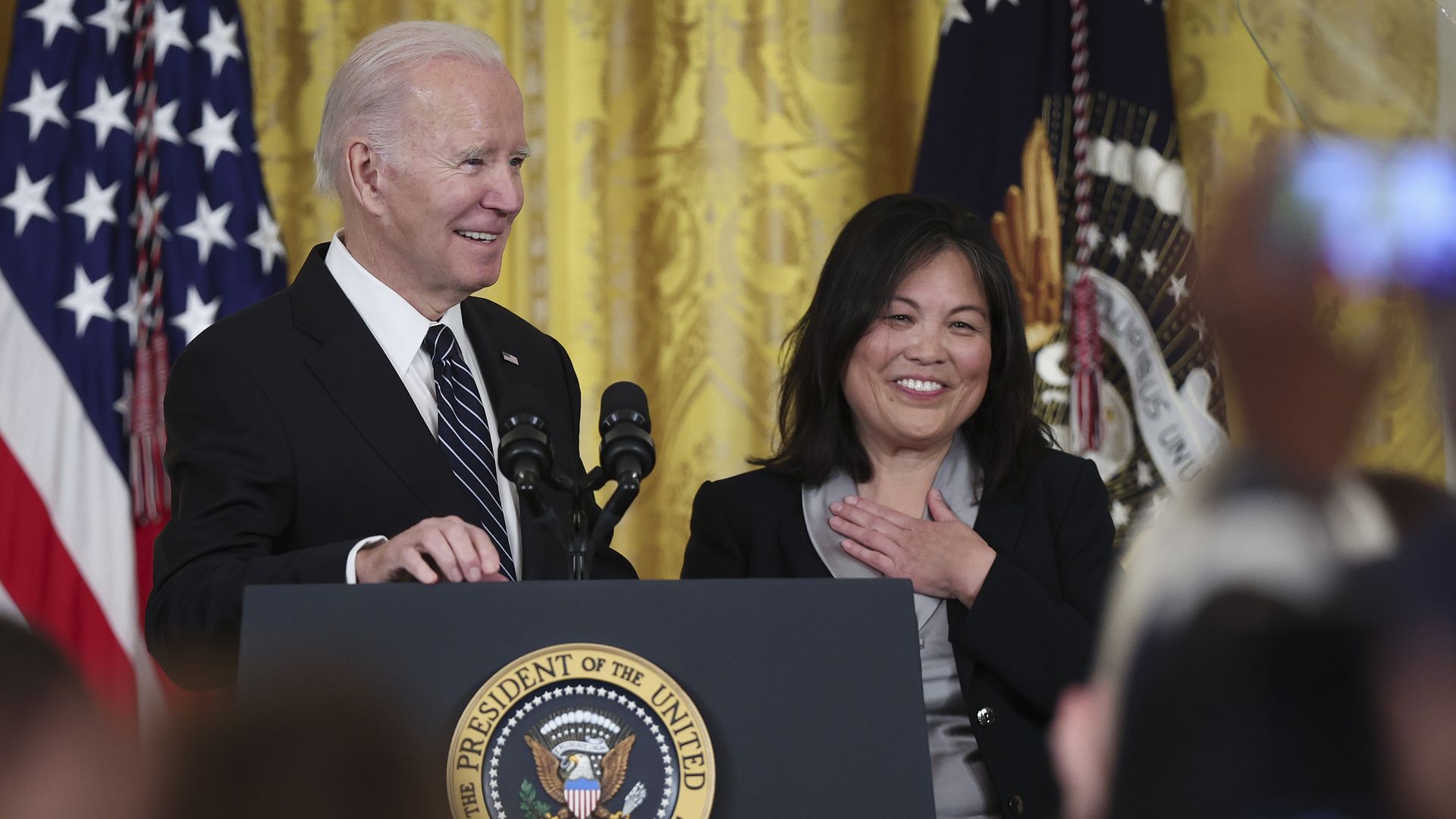 President Biden with Julie Su, his nominee for Labor Department secretary. Photo: Win McNamee/Getty Images
President Biden's embattled nominee for Labor secretary, Julie Su, will open her confirmation hearing on Thursday by recalling her upbringing as the daughter of immigrants who owned small businesses, Axios has learned.
Why it matters: Democrats know that Su's nomination is in trouble, with potential opposition from Sen. Joe Manchin (D-W.Va.).
To fight for her nomination, Su plans to focus on her personal story as a way to rebut charges that she's dismissive of the challenges business owners face.
"I know small-business owners are the engines of our economy, because I watched it every day," she plans to say at her committee hearing, according to remarks shared with Axios.
My family "owned a dry cleaning and laundromat business, and then a franchise pizza restaurant," she plans to say. "For years, my dad would work his day job and then head right to the pizza shop, returning home after 10pm, often with leftover pizza for our school lunches the next day."
Driving the news: The Biden administration and Senate Democrats are all-hands-on-deck in trying to convince potential holdouts that Su, currently the deputy Labor secretary, is qualified to replace Marty Walsh, who left in March to lead the NHL players' union.
Sen. John Hickenlooper (D-Colo.) plans to make a forceful case for Su in the Senate Democratic lunch on Tuesday, according to a person familiar with the matter.
Hickenlooper will emphasize Su's role in implementing apprenticeship programs and ensuring that the economy grows for all Americans — both those with and without four-year college degrees.
The big picture: Su's nomination could fall victim to an emerging dynamic that has seen Democrats facing tough races in 2024 willing to buck the White House on either hot-button policy issues — like crime and ESG investing — or contentious nominees.
Two of Biden's nominees have already been forced to withdraw in the face of Democratic defections.
Sen. Bernie Sanders' office is distributing talking points to fellow Democrats, reminding them that Su has received endorsements from nearly every major labor union.
"The only thing that's changed since Julie Su was confirmed in 2021 's done an excellent job as Deputy Secretary of Labor," the talking points argue.
What we're watching: The nomination is turning into a proxy battle between labor unions and business groups like the Independent Franchisee Association and the National Restaurant Association. Both are opposed to her nomination.
Su also antagonized the tech industry with her support of SB5, a California law designed to force companies to offer more protections to independent contractors.
"In next week's hearing, we hope Ms. Su addresses serious concerns about her commitment to preserving worker independence and consumer choice," said Kristin Sharp, CEO of Flex Association, a trade group of app-based companies, told Axios.
The other side: Last Friday, the United Mine Workers of America, which has a strong base of support in West Virginia, endorsed her, praising her record on "worker safety and health."
And a collection of minority-owned small businesses have also come out in support of her.
"Su is the daughter of Chinese immigrants and small-business owners, and understands the unique challenges that small businesses deal with on a daily basis to scale, and keep their doors open," the leaders write, according to a copy of the letter obtained by Axios.
Source: Read Full Article