Senior U.S. delegation in Saudi Arabia for talks with GCC
2 min read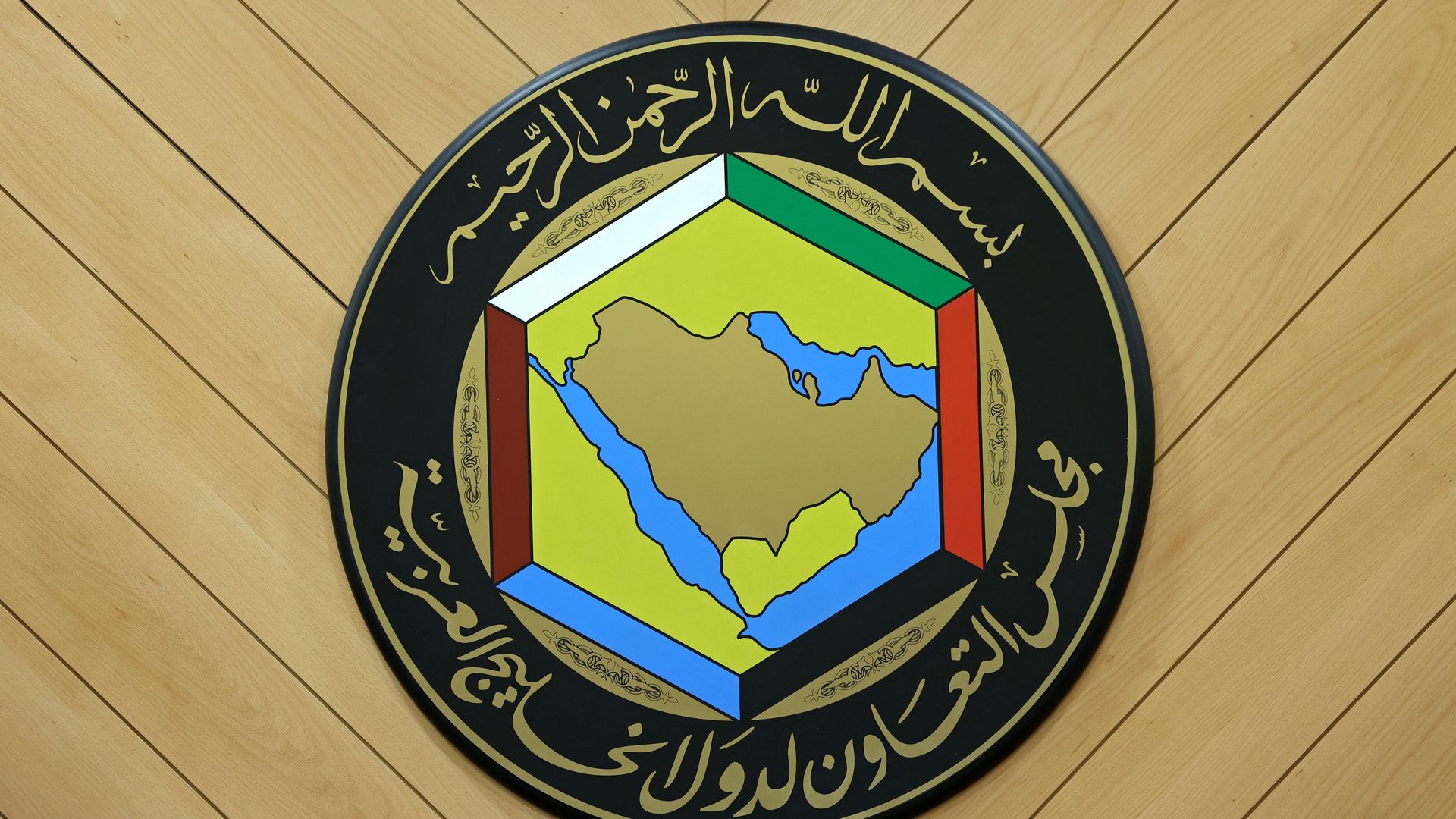 Gulf Cooperation Council logo. Photo: Fayez Nureldine/AFP via Getty Images
A senior U.S. delegation traveled to Saudi Arabia this week for talks with six Gulf countries on Iran and security cooperation in the region.
Why it matters: It's the first senior U.S. delegation to travel to the kingdom since a crisis erupted over oil production, which led the Biden administration to announce it was reevaluating its relations with Riyadh.
The meeting was supposed to take place in Riyadh last October but was canceled by the Biden administration in protest of the Saudi decision to decrease oil production, according to U.S. officials.
Driving the news: The delegation, which arrived in Riyadh on Monday, includes senior officials from the Department of Defense, State Department and other government agencies, the State Department said.
All members of the Gulf Cooperation Council — Saudi Arabia, the UAE, Bahrain, Qatar, Oman and Kuwait — are participating in the talks.
The first working group on Integrated Air and Missile Defense and Maritime Security met on Monday, deputy assistant secretary of defense for the Middle East Dana Stroul, who led the talks, said in a briefing with reporters.
Another working group on Iran, led by special envoy for Iran Rob Malley, met today. A third working group on counterterrorism will meet on Thursday. Acting coordinator for counterterrorism Christopher Landberg will lead the U.S. team.
What they're saying: Stroul said the talks on Monday focused on regional threats by Iran and its proxies, the transfer of Iranian weapons to Russia for use in Ukraine, and Iranian-Russian military cooperation that has serious implications for the stability and security of the Middle East.
The U.S. and the six Gulf countries discussed how to increase intelligence sharing and early warnings against missiles and other aerial threats and how to use each country's air defense system to counter these threats together, Stroul said.
Maj. Gen. Clark Quinn, the deputy commander of the Air Force in the U.S. Central Command, told reporters that the teams also discussed ways for the six countries to share their air picture with each other and with the U.S. in order to improve early warnings for potential attacks.
Between the lines: Stroul and other U.S. officials avoided linking the meetings in Riyadh to the crisis with Saudi Arabia and presented it more as a multilateral gathering than a bilateral one with the Saudis.
Source: Read Full Article