Democrats squeeze vulnerable Republicans over abortion pill ruling
3 min read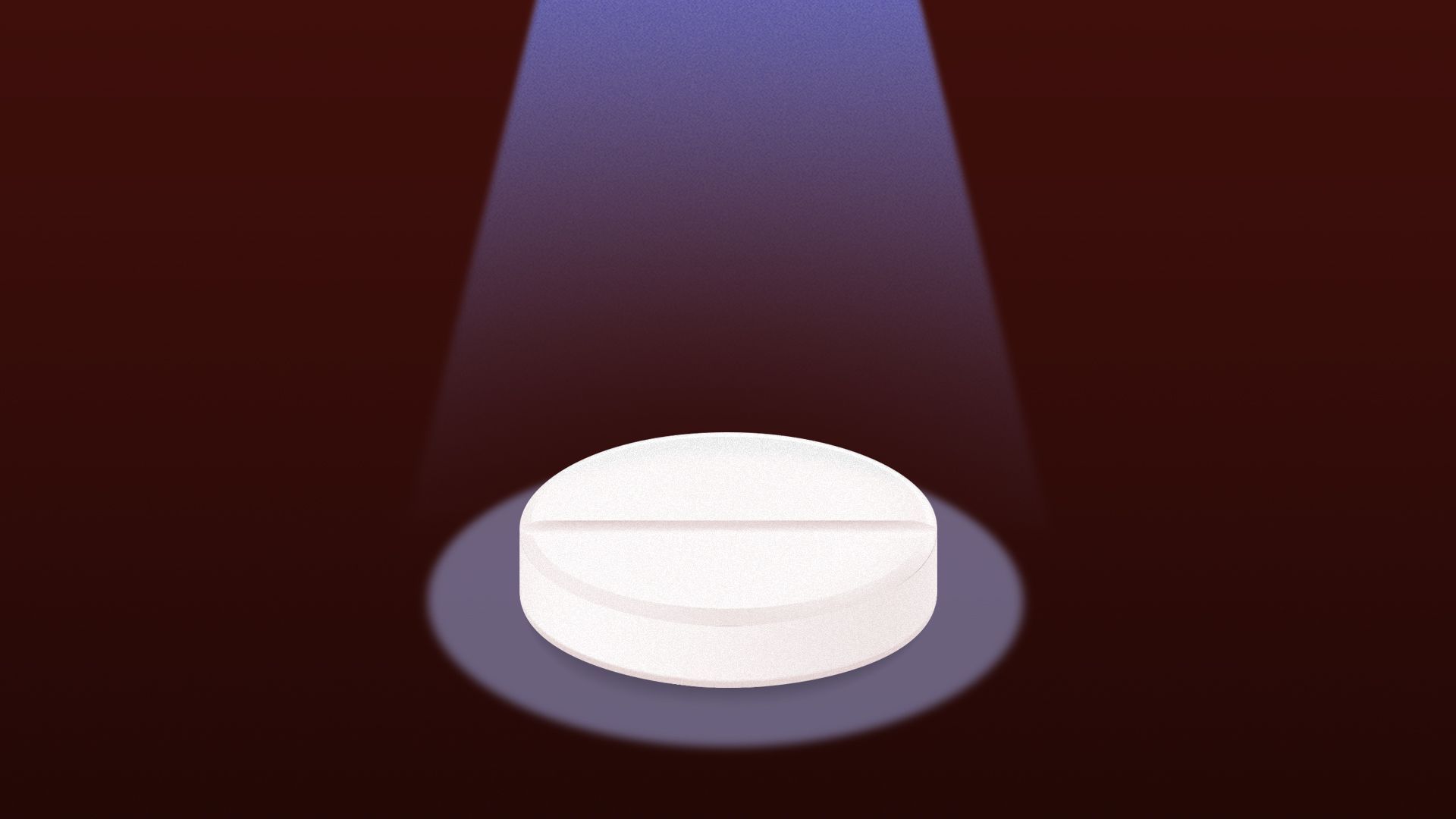 Illustration: Natalie Peeples/Axios
House Democrats are pressuring Biden-district Republicans to support a bill that would counter a federal judge's explosive ruling pausing the FDA's approval of a common abortion drug — or face the political fallout.
Why it matters: Nearly a year after the Supreme Court overturned Roe v. Wade, Democrats' strategy of relentlessly hammering Republicans on abortion has continued to pay dividends.
The GOP is still reeling from a devastating loss in last week's Wisconsin Supreme Court race, in which abortion rights played a central role.
House Democrats are betting that now is the perfect opportunity to peel off vulnerable Republicans — and if not, paint them as "MAGA extremists" who are on the wrong side of the American public.
Driving the news: Rep. Pat Ryan (D-N.Y.), whose special election victory in August was viewed as the first test of Democrats' post-Roe abortion message, told Axios that he invited all members to co-sponsor his bill reasserting the FDA's authority to approve medications, including the abortion pill mifepristone.
Ryan said Sunday that he hadn't yet heard back from any Republicans, including the 19 who represent districts President Biden won in 2020 — five of whom are in New York and were invited twice to co-sponsor.
A spokesperson for Rep. Marc Molinaro (R-N.Y.) told Axios on Monday that they were reviewing the bill.
What they're saying: "These Republicans … have a choice," Ryan told Axios in an interview. "They can stand for freedom, they can sign on to the bill, or not. And it will be noted."
Ryan accused the five New York Republicans of falsely promising in 2022 that the Supreme Court's Dobbs ruling would not affect New Yorkers.
He argued that failing to co-sponsor his bill would be "a grave disservice to voters" who "thought they were voting for 'moderates.'"
The other side: Molinaro, who lost to Ryan in the special election but was elected to Congress after redistricting, called the ruling "a dangerous precedent."
"I supported expanding access to this medication as a member of the State Assembly and support access now," the Republican said.
Rep. Anthony D'Esposito (R-N.Y.) said in a statement that he is "deeply concerned" with the ruling and is "currently reviewing ways Congress can best ensure women's care is not interrupted by this ruling."
Molinaro's spokesperson said the GOP congressman spoke to Ryan three times last week, most recently Saturday, but that the Democrat didn't bring up the bill.
Between the lines: A senior staffer to another New York Republican pushed back on Ryan's comments by noting that the emails were sent out over Easter and Passover weekend, making it more difficult for offices with observant staffers to respond.
But elected Republicans and candidates for president have been virtually silent on the abortion pill ruling, underscoring the extent to which the GOP recognizes that this has become a losing issue.
70% of Americans say they would oppose federal courts overturning the FDA's approval of mifepristone, according to a Reuters/Ipsos poll from just last month.
Context: U.S. District Judge Matthew Kacsmaryk issued a decision last week suspending the FDA's approval of mifepristone. If the ruling takes effect Friday, manufacturing, selling and distributing the drug in the U.S. would be illegal.
His ruling attempts to circumvent the FDA, as it does not explicitly order the agency to take a specific action but instead simply suspends the agency's approval of mifepristone.
"This is overturning the FDA's basic scientific decisions about approving a drug," said William Schultz, former FDA deputy commissioner and former general counsel for the Department of Health and Human Services.
If Kacsmaryk's order prevails, it would set a precedent that could have "a very serious adverse effect on drug development," Schultz added.
What we're watching: Top Democratic operatives are signaling that the legislation is poised to be a centerpiece of their abortion messaging in 2024.
"Any Republican who doesn't support the Protecting Reproductive Freedom Act is confirming that they stand on the side of anti-abortion MAGA extremism," Abby Curran Horrell, the executive director of Democrats' House Majority PAC, said in a statement.
DCCC spokesperson Vriti Jain said: "[Vulnerable] Republicans are delusional if they think they'll be re-elected without defending the reproductive freedoms that extreme MAGA Republicans continue to erode nationwide."
Source: Read Full Article