Musk dust-up with former employee highlights challenges facing disabled workers
2 min read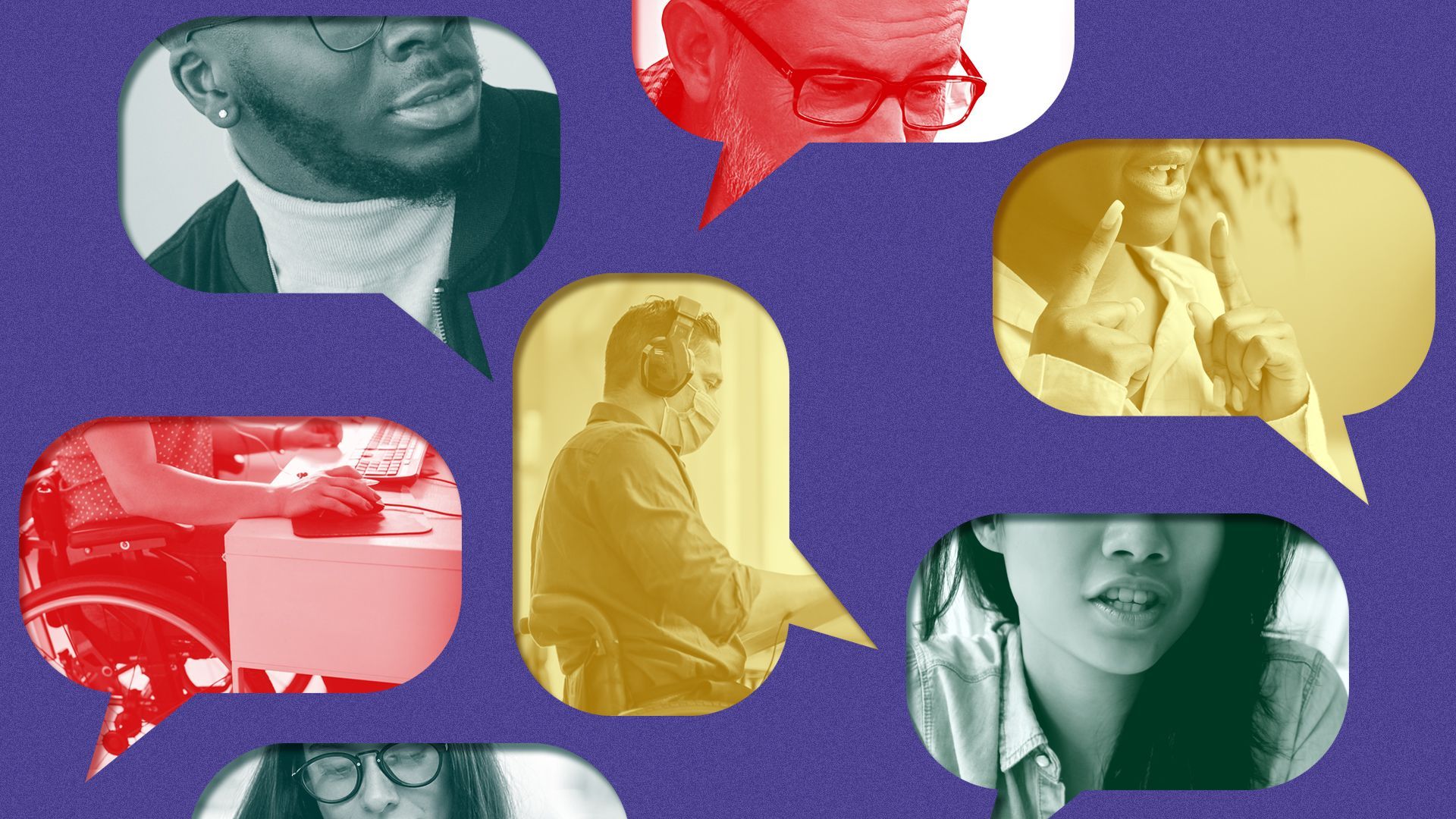 Illustration: Sarah Grillo/Axios
Elon Musk once again seemingly said the quiet part out loud. In a tweet last week, which he later apologized for, the Twitter CEO claimed a former employee used a disability as an excuse not to work.
Why it matters: Most employers know better than to open themselves up to legal liability by tweeting something about a worker's disability — especially something derogatory — but that doesn't mean Musk's kind of thinking is unusual.
"They just keep that conversation offline," says Mia Ives-Rublee, director for the disability justice initiative at the Center for American Progress.
Catch up quick: The Musk situation started when a former Twitter employee, Haraldur Thorleifsson, started tweeting at the CEO to figure out if he still had a job at the company — he was locked out of his work accounts, and couldn't get a straight answer from the company as to his employment status.
Musk replied, and they had a back-and-forth where Thorleifsson explained his job. Musk mocked him in return, with a clip from the movie "Office Space."
Later, in a reply to someone else, Musk wrote that Thorleifsson "did no actual work, claimed as his excuse that he had a disability that prevented him from typing, yet was simultaneously tweeting up a storm."
Thorleifsson refuted Musks' claims, explaining that he has muscular dystrophy and uses a wheelchair — and that the design company he founded was purchased by Twitter in 2021.
Instead of taking a large payout from Twitter, Thorleifsson took a job with the company — a move that was celebrated in his home country because he'd wind up paying higher taxes, as the AP notes.
Finally, Musk wound up apologizing to Thorleifsson for "my misunderstanding of his situation" — and offered him his job back.
Zoom out: It's not uncommon for an employer to disbelieve a worker when they say they have a disability, said Ives-Rublee.
The issue is becoming more complex now, as some workers with disabilities are being asked to return to office, where they'll need certain accommodations.
Ives-Rublee mentioned one person she's working with who is having trouble getting permission to bring his service dog to work.
The bottom line: Employers should slow down before making assumptions about a worker's ability.
"Employers frequently dismiss disabled people without taking the time to understand how we share our talents, and consequently employers suffer from the loss of brilliant people like Thorleifsson," Haben Girma, a disability rights advocate, told Axios in an email.
Source: Read Full Article