Biden sets new trap with GOP budget taunt
3 min read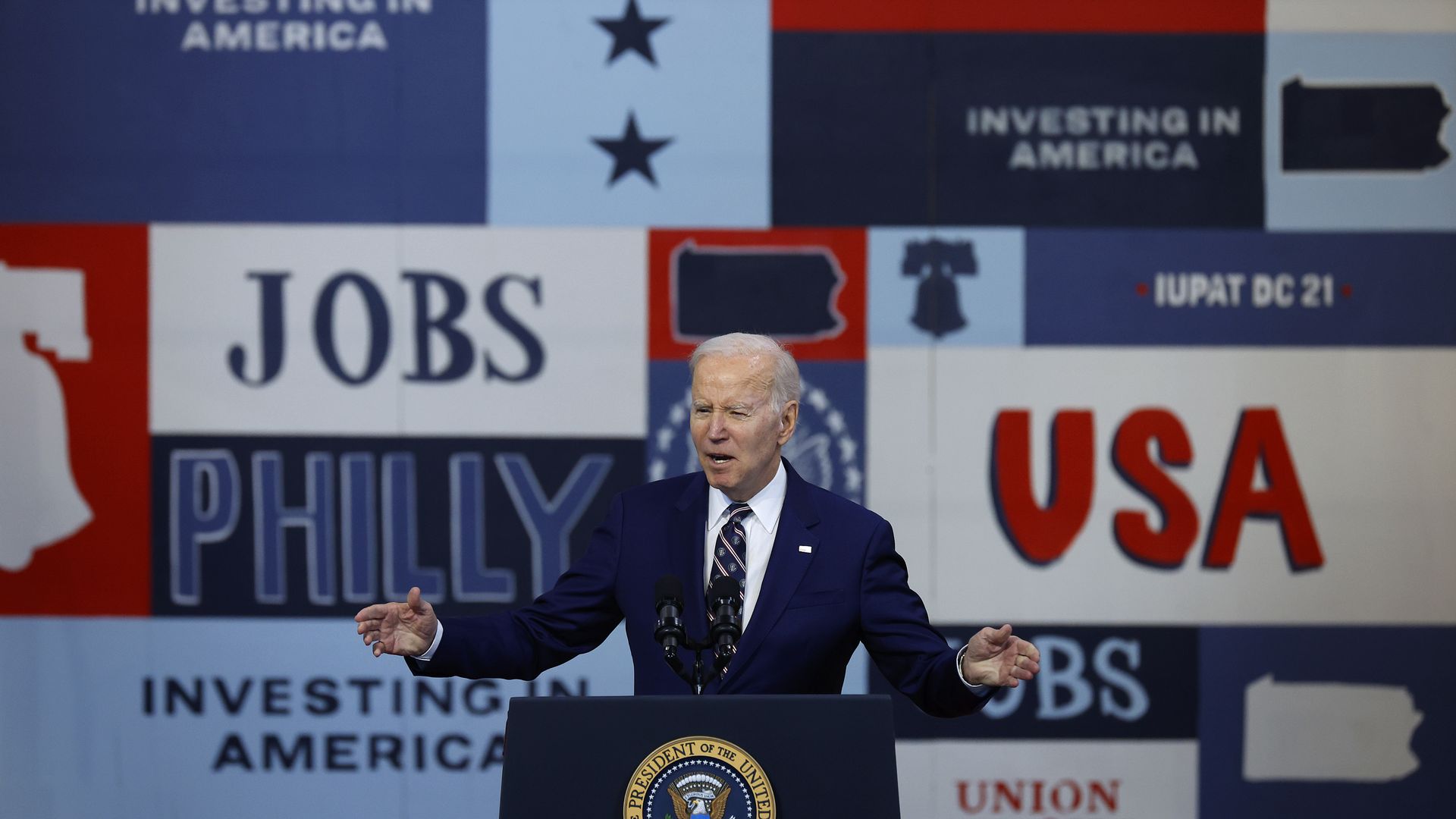 Photo: Chip Somodevilla/Getty Images
President Biden got his FY2024 budget out of the way. Now he can turn to a more urgent task: Goading Republicans into offering their own proposals — and trying to define them before they do.
Why it matters: By calling for the rich to pay higher taxes to shore up Medicare, Biden is trying to force a fight on deficit spending and entitlement programs on his own populist terms.
The bigger battle is over the looming debt ceiling showdown.
Biden upped the ante Thursday by hinting that he won't even meet with House Speaker Kevin McCarthy before he puts forward his own budget.
"I want to make it clear: I'm ready to meet with the speaker anytime — tomorrow, if he has his budget," Biden said in Philadelphia.
The other side: McCarthy responded that the House planned to release a budget, but that it would be delayed — offering an explanation but not a timeline.
"We were going to do the budget in April," McCarthy told reporters. "But unfortunately, the president is so late with his budget, it delays our budget."
Driving the news: In a campaign-style speech on budget day, Biden made it clear he was looking for confrontation — not negotiation.
He even raised the specter of Trump's return, calling him "the former president, and maybe future president."
"Bless me, Father," he added, making the sign of the cross and drawing laughter from the union crowd.
Between the lines: Biden's $6.8 trillion spending blueprint, which relies on $1.8 trillion in deficit spending in its first year, had a little something for everyone in his own party.
It didn't have many olive branches to the other side.
By the numbers: In the strategic press previews leading up to the budget's release, officials emphasized Biden's $3 trillion in deficit reduction over 10 years.
Biden still plans to spend more than $10 trillion that he wants to raise in taxes over the next decade.
The defining features of his budget on the revenue side are higher taxes on corporations and the wealthiest Americans — for a total of $4.5 trillion over 10 years — including a new 25% tax on billionaires.
On the spending front, he proposed more for domestic discretionary spending — where progressives focus most of their energy — than he did for the Pentagon.
What we're watching: Amid all Biden's bold talk on shoring up entitlement programs, there were more muted estimates on the economy.
Biden's team assumes GDP will grow only 0.4% this year, with the jobless rate rising to 4.3% and 4.6% in 2024. (It was 3.4% in January.)
Those jobless forecasts are rosier than projections from the Congressional Budget Office's version last month, Axios' Neil Irwin notes.
CBO envisions unemployment jumping even higher, to 4.7% this year and 4.9% next, with inflation coming down more slowly.
Be smart: Friday's jobs numbers, with economists predicting some 205,000 new jobs were created in February, will give Biden another opportunity to talk about the economy and his plans to keep it growing.
Source: Read Full Article