From record heat to an L.A. County blizzard, this winter storm has it all
3 min read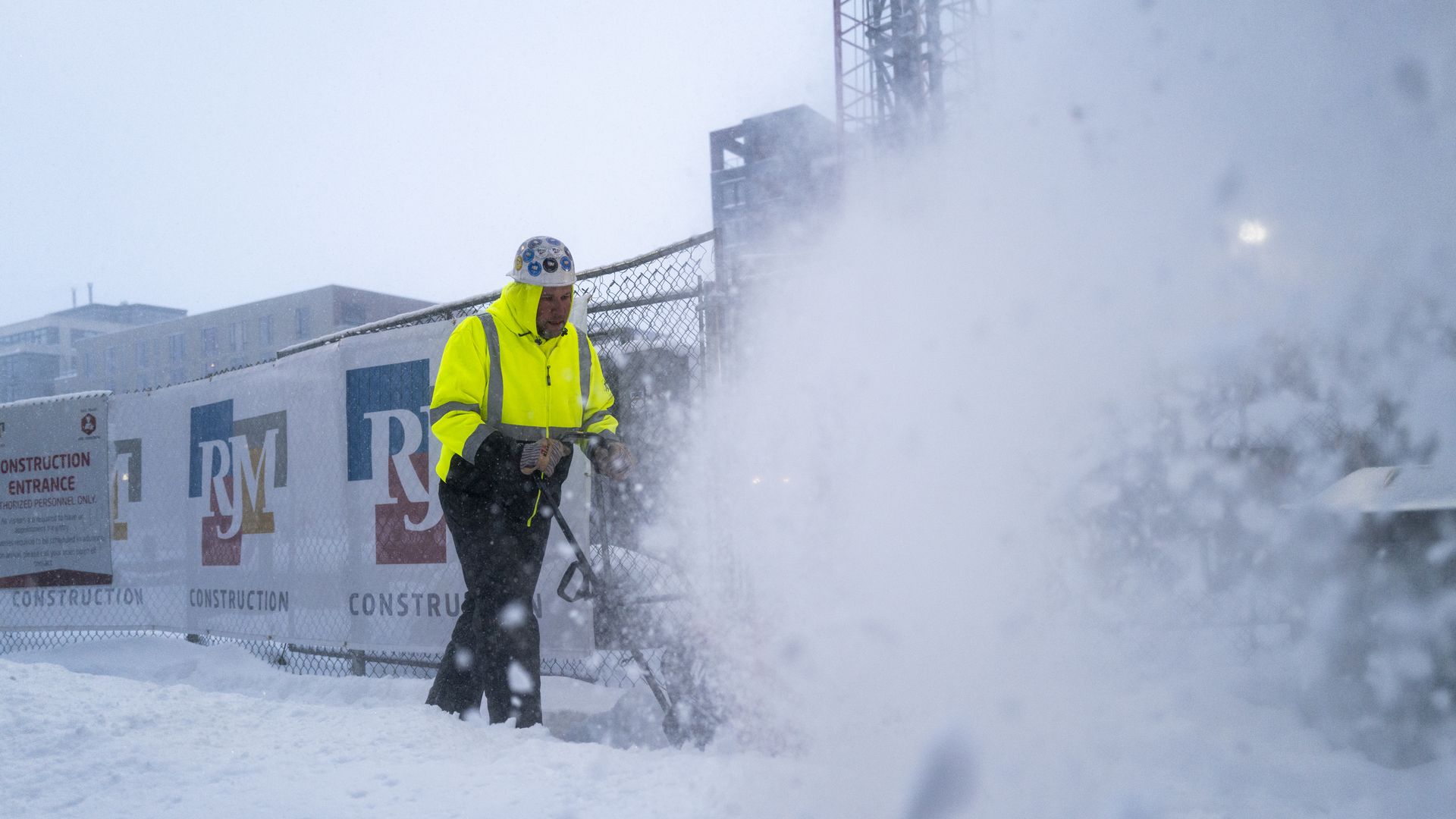 A worker clears snow from a work site on Feb. 23 in Minneapolis, Minnesota. Photo: Stephen Maturen/Getty Images
A sprawling, high-impact winter storm continues to affect the Lower 48 states, with the worst effects felt in the Upper Midwest, Northeast and West Coast Thursday.
Threat level: Ice took down trees and powerlines overnight in Michigan, leaving 740,000 customers without power. Combined outages due to ice, high winds and heavy snow across the country add up to more than 1 million as of Thursday at 11:30 am EST.
Heavy snow has been falling Thursday in the Twin Cities, with amounts so far eclipsing 15 inches in some spots since Tuesday, with more to come.
In the Northeast, heavy snow is falling in the higher elevations, with lighter precipitation in valleys and southern New England.
West Coast walloped by round one of heavy snow, rain and high winds
The big picture: Currently, winter storm alerts, including winter storm and blizzard warnings, stretch from Oregon south to California's border with Mexico.
Arctic air has invaded the region, bringing snow levels down to unusually low levels, including coastal areas of Northern California.
Portland, Oregon has been heavily affected by snow, with hundreds of cars abandoned around the city due to treacherous roadways.
The National Weather Service (NWS) reported 10.8 inches of snow fell in Portland on Wednesday, which is the 2nd largest calendar day snowfall in city history.
More snow was still falling into Thursday morning there before tapering off.
Rare blizzard warnings for California
Zoom in: The storm that caused the Portland snows is pinwheeling south, parallel to the West Coast, and is taking direct aim at California.
The culprit for the storm is a deep dip in the jet stream, also known as a trough, that has been carved out across the state, steering storms that way.
Traveling along that trough is a pocket of cold air at the upper levels of the atmosphere, along with a potent package of energy in the form of atmospheric spin.
These elements will combine to yield heavy precipitation in California, as winds howl from sea toward shore, transporting copious amounts of moisture.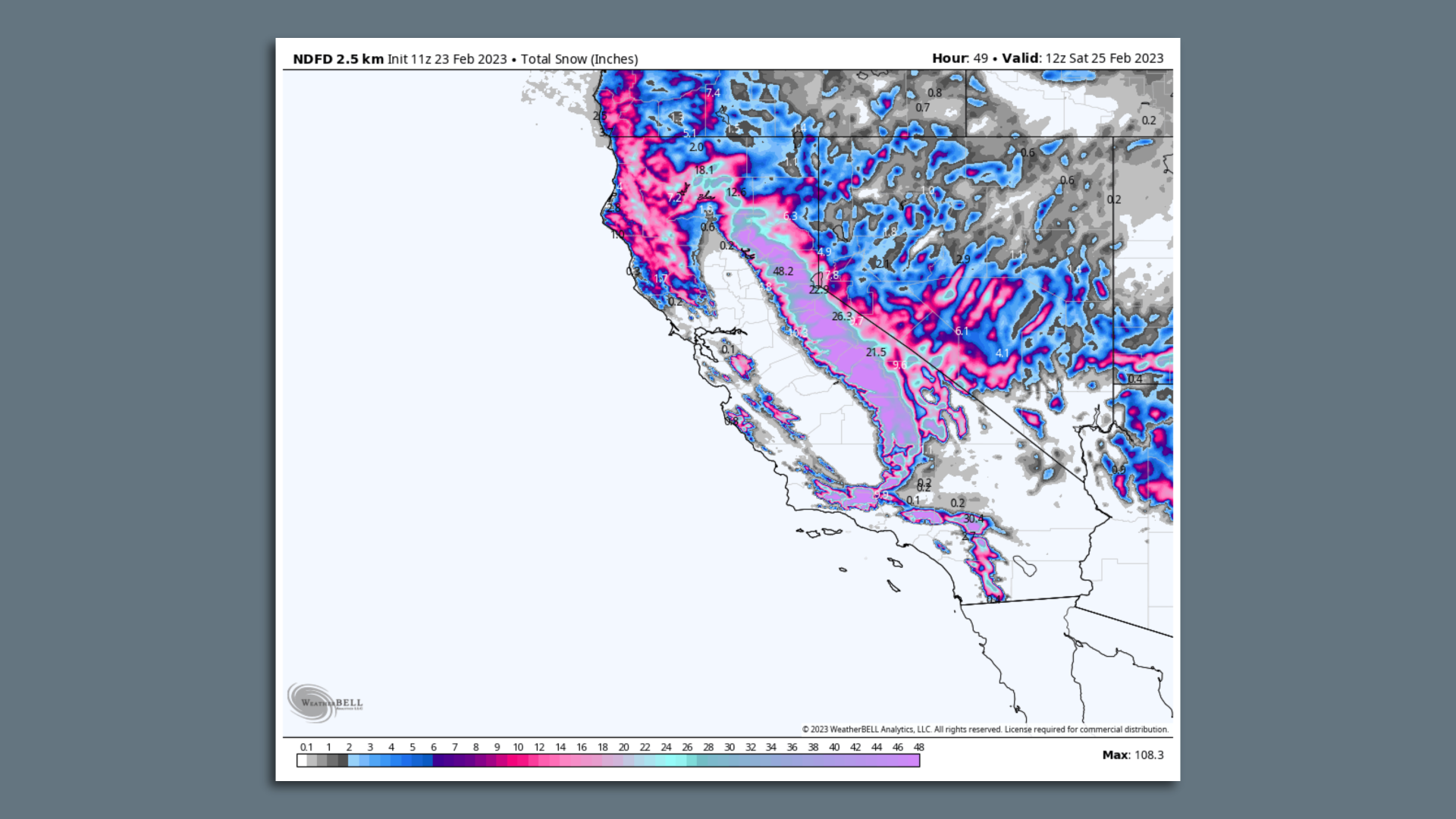 Between the lines: The storm, which will reach its maximum intensity in Southern California on Friday through Saturday, will encounter an unusually cold airmass, even for late February.
The NWS has issued winter storm warnings for the hills of San Francisco Bay.
With snow levels down to about 1,000 feet, it is likely that snow will pile up in the North Bay mountains, Santa Cruz Mountains and other higher elevations in the Bay Area.
Southern California is expecting severe impacts from this event, with up to 6 inches of rainfall at lower elevations, which could cause flooding and mudslides.
At higher elevations, though, blizzard warnings are in effect for the hills and mountains of L.A. and Ventura Counties, as well as northward into Yosemite and Sequoia National Park.
Of note: This is the first blizzard warnings issued by the NWS' LA forecast office since 1989.
The NWS is warning of up to 7 feet of snow at the highest elevations, but even areas down to 1,500 feet could see several inches of snow.
Avalanche dangers, power outages and tree and structural damage could occur due to the heavy snow and strong winds.
"Significant blowing and drifting of snow combined with the whiteout conditions will make driving very difficult to impossible, including for rescue crews," the NWS L.A. office wrote in an online forecast discussion.
"The incredible amount of snow combined with the strong wind will lead to extreme avalanche conditions along steeper terrain and at lower elevations than we typically experience in southern California," the NWS stated.
Record heat in the Mid-Atlantic, Southeast
At the same time that heavy snow and ice is falling across much of the country, southerly winds are drawing record warm air up the East Coast as well as into the Ohio Valley and Southeast.
Temperatures could reach 80°F Thursday afternoon in the Washington, D.C. metro area and points to the south, and dozens of daily and even monthly records are likely to fall across several states.
The warmth is likely to solidify this winter's standing as one of the top 5 warmest such seasons on record for several cities, from Miami north to New York City.
Many spots are also vying for their warmest February on record.
Source: Read Full Article